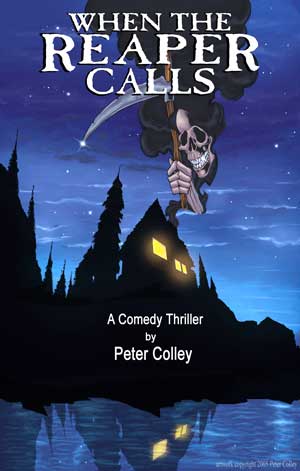 - A COMEDY-THRILLER -
FREE COPIES AVAILABLE
FOR THEATRES
For more info click
on the poster or: click here
Now available in an Italian translation:
"Quando La Morte Chiama".
For details click here.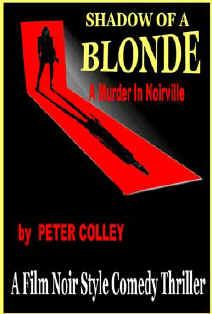 FREE COPIES AVAILABLE
FOR THEATRES
Premiered in Calgary at The Vertigo
Theatre. For more info click
on the poster or: click here.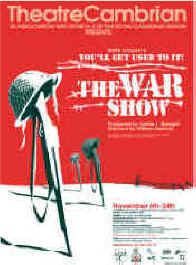 - CANADA IN WWII -
FREE COPIES AVAILABLE
FOR THEATRES
For more info: click here
THE MAN IN THE DESERT about the life of Lawrence after his Arabia days was a semi-finalist for the 2007 Eugene O'Neill awards, and was performed to very good reviews in 2007 at Theatre In The Park, Raleigh, North Carolina.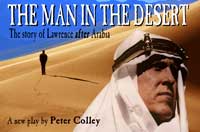 For more information on
THE MAN IN THE DESERT
click here

CAGNEY has its Los Angeles premiere following its New York runs
at THE YORK THEATRE (2015) and THE WESTSIDE THEATRE (2016-2017)





El Portal Theatre Los Angeles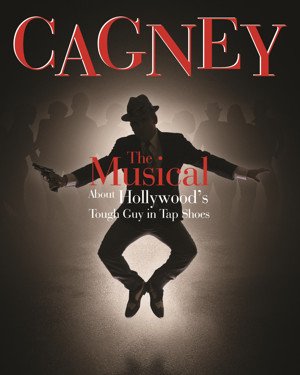 CLICK HERE TO READ NEW YORK REVIEWS

See the video: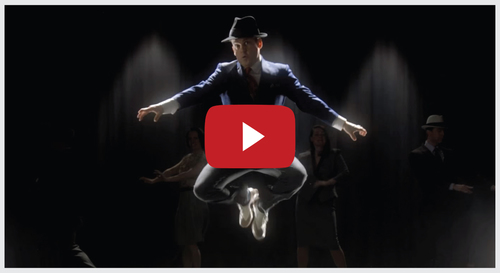 I'LL BE BACK BEFORE MIDNIGHT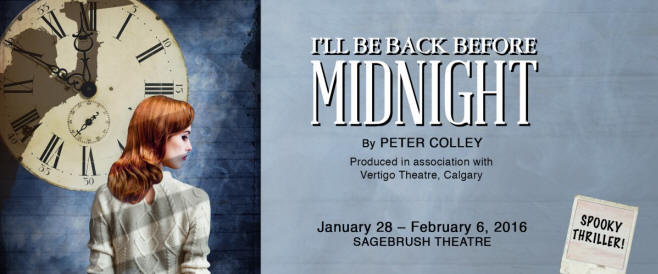 Still running in Shanghai and Beijing, recently opened in Poland, for details, click here.
2019 upcoming tour in Sweden and Istanbul, Turkey. Recently remounted at the Western Canada Theatre Company - voted by the audience as their favorite production of the last 30 years.

"Midnight" Rocks in Los Angeles premiere!
At The Colony Theatre in Los Angeles (which Encyclopedia Britannica called one of "25 Notable US Theater Companies"). RUN EXTENDED!

"A roller-coaster play with the kind of stomach-dropping twists that will make you hoot with laughter even as you clutch your theater companion's sleeve."
Los Angeles Times

READ THE LOS ANGELES REVIEWS AND SEE CAST PHOTOS CLICK HERE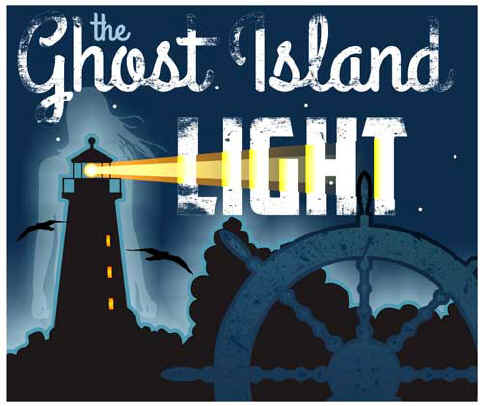 PREMIERED IN 2015 - A BRAND NEW COMEDY THRILLER
at the Lighthouse Festival Theatre.
Helps break theatre's box-office record!
FOR MORE INFORMATION CLICK HERE



Produced at Theatre Orangeville 2016, 2018: Guelph LT, Blackhorse Theatre, The Roxy in Owen Sound, Brighton Barn Theatre, 2019: The Livery Theatre.


2016 at the St. Jacob's Playhouse, Ontario
2017 at the Dunfield Theatre, Cambridge, Ontario
2017 at the King's Wharf Theatre, Penetanguishine, Ontario
"Terry Fox Musical is a triumph!" Hamburg Independent
"An instant classic." Wellington Advertiser
"Nothing short of transcendent... neither soppy nor overly sentimental,
just Terry's story in all its uplifting rawness and emotional complexity." Hamilton Spectator


Three vaudevillians recount their days in vaudeville with songs and sketches. This show ran for almost a year in Toronto. For more info, click here.

RECENT SELECT OTHER PRODUCTIONS:

I'LL BE BACK BEFORE MIDNIGHT
With productions in Sweden, Turkey and Malta, "I'll Be Back Before Midnight" has now been produced in 32 countries. 2016-17 National Tour of Germany. 2015/16 at the Vertigo Theatre (Calgary) and the Western Canada Theatre. Also ongoing - Shanxi People's Dramatic Arts Co in Xi'an China, and a revival in Shanghai; a new Polish translation called "Wrócę Przed Północą". Recent productions: a three theatre Canadian mini-tour by Drayton Entertainment at the St. Jacob's Playhouse, Huron Country Playhouse / Kings Wharf, The Cortland Repertory Theatre upstate New York and the beautiful Mill At Sonning Theatre on the banks of the Thames near London. Other recent productions include Mexico, The Millbrook Playhouse (US), The Lighthouse Festival (Canada), and The Metro Theatre in Vancouver (it is the Metro's 50th anniversary season and they have chosen the 7 most successful plays in the last 50 years for their season). In 2011, "Midnight" at Teatro Erba in Turin, Italy in Italian, Shanghai China at the Shanghai Modern Theatre (see posters below) in Mandarin, and Nairobi, Kenya. 2011 also featured professional productions at St. Michael's Playhouse in Vermont, and the The Showboat in Canada. 2010 it premiered in Spain and Lisbon, Portugal for the first time, and the American Heartland Theatre, Kansas City. The KC production starred Darren Kennedy (CSI, Without A Trace). It received excellent reviews from the Kansas City Star and the KC Metro - for information on this production, photos, video, reviews etc click here. "Midnight" was nominated for 9 New Zealand NAPTA Awards, and won three including "Best Play".

It was produced in Munich, Germany at the famous Theater Blutenburg where it ran for many months in a German translation. Productions in the U.S., Ireland, Jamaica, South Africa and Australia, a National Tour of Britain, Nairobi, Kenya, and New Zealand. The world famous Cambridge Footlights (Monty Python, Beyond The Fringe, Borat) produced I'LL BE BACK BEFORE MIDNIGHT. For details CAMBRIDGE FOOTLIGHTS click here.
I'LL BE BACK BEFORE MIDNIGHT named as "Best of Calgary Theatre" by the Calgary Sun. "It's no surprise I'll Be Back Before Midnight has thrilled audiences in 32 countries and become the most produced Canadian play ever."
WHEN THE REAPER CALLS
For 2015 a new Polish translation called "Wrócę Przed Północą", plus a new Italian translation titled "Quando La Morte Chiama" was performed in Rome in 2012, as well as a production in Shanghai in Mandarin, and Cape Town, South Africa. Produced in Hamburg, Germany, and in 2010 at The Abbey Theatre in Scotland, and at the Sudbury Theatre Centre. 2011 at The Lighthouse Theatre (Canada), The Meaford Opera House and The City Playhouse near Toronto. This play won 5 awards at the Western Ontario Drama League's annual festival in Canada. British premiere in 2007, New Zealand premiere in 2009 (The Waiuku Theatre and The Dolphin Theatre) and by the Columbia Entertainment Company in the US. The play won 4 New Zealand NAPTA theatre awards in 2010 including "Best Comedy". WHEN THE REAPER CALLS has been published by Samuel French Ltd in London.
YOU'LL GET USED TO IT - THE WAR SHOW
2014, Theatre Cambrian, recent productions: Hamilton Theatre, Ontario, The Rose Theatre, Brampton, The Kanata Theatre, Ottawa, the Langham Court Theatre, Victoria BC, The Newmarket Stage and the Georgetown Music Theatre and in 2014 at the Meadowvale Music Theatre and Theatre Cambrian.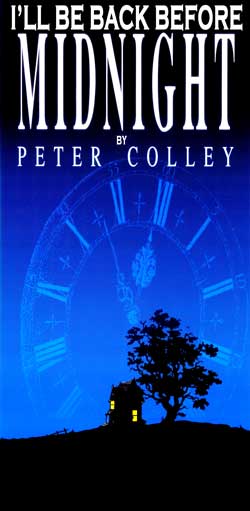 FREE COPIES AVAILABLE
FOR THEATRES
For more info click on
the poster or: click here
Poster design: Elliott Smith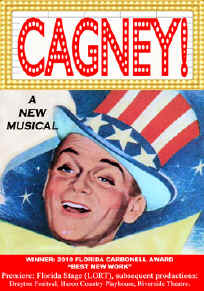 A high-stepping new
musical about the screen's
greatest tough-guy.
For more info: click here
Winner 2010 Carbonell Award "Best New Work" and an Edgerton Foundation "New American Play Award" starring Broadway's Robert Creighton as Cagney (ANYTHING GOES / DROOD / LITTLE MERMAID). ENTIRE RUN SOLD OUT!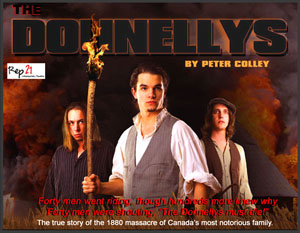 THE DONNELLYS
Canada's most famous crime
For more info: click here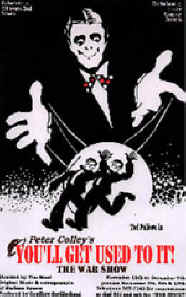 FREE COPIES AVAILABLE
FOR THEATRES
For more info: click here