PETER COLLEY Playwright-Screenwriter

I'LL BE BACK BEFORE MIDNIGHT!
(2 Males, 2 Females, 1 set, 2 Acts)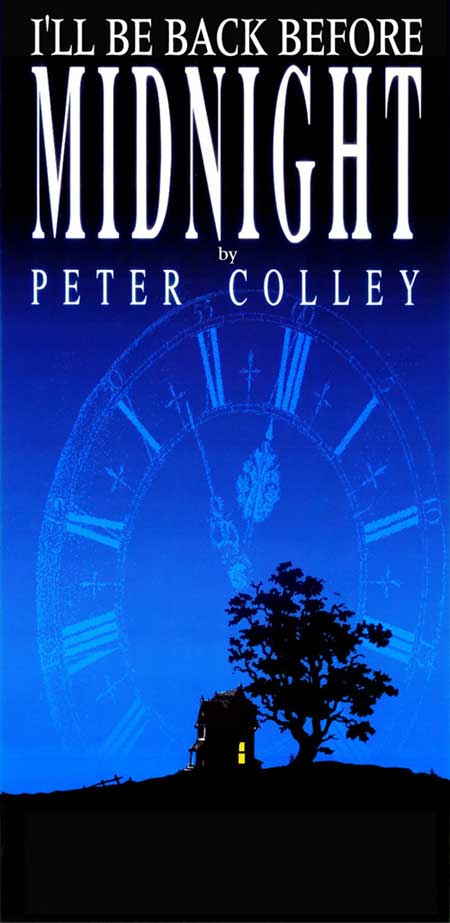 Poster design: Elliott Smith
THEATRES COMPANIES - FOR A FREE PERUSAL COPY CONTACT THE AUTHOR AT:



NOTE: There are some scenes in the play alluding to incest which may be disturbing to some audiences.
Please contact the author for the alternative versions of those scenes.
(To read the TECHNICAL NOTES for the play to see easy ways to do the special effects: Click here )
SYNOPSIS & REVIEWS:
THE STORY: Jan has recently had a nervous breakdown, and her husband Greg, an archeologist, has rented an old farmhouse in the country where she can recover. The old farmhouse is near an archeological dig where he can continue his studies. When George, the hilarious farmer they rent the house from, tells stories about a terrible murder that once took place in the farmhouse and the ghost that reputedly stalks the night, Jan's imagination gets fired up. The situation gets even worse when Laura, Greg's beautiful but manipulative sister arrives. Soon Jan finds herself tormented by strange sounds in the night, and visions of the vengeful ghost. Is she having another breakdown? Is someone trying to drive her mad? When she tries to defend herself from this apparition, events take an unexpected turn in a night of unimaginable suspense.
For a detailed production history of the play, click here: The Midnight Story.


"The most memorable theatre experience of my life. Made me realize what live theatre could be." Calgary Herald
I'LL BE BACK BEFORE MIDNIGHT named as "Best of Calgary Theatre" by the Calgary Sun.
2016-17-18 GERMANY - English Theatre of Hamburg, German language tour,
upcoming in 2019 2 First-Class Swedish productions and in 2010 in Istanbul, Turkey.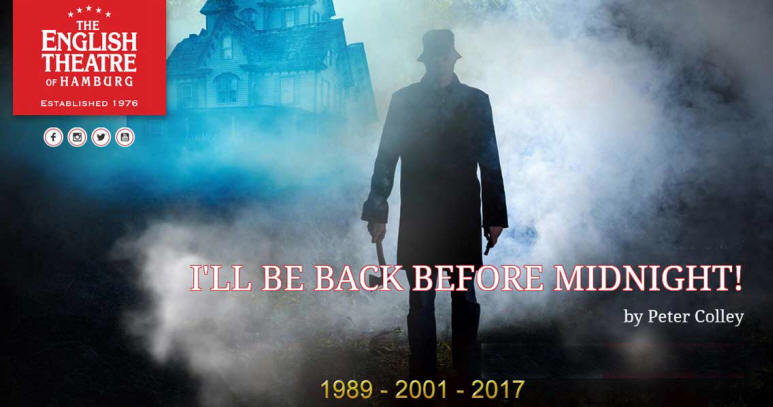 TO READ MORE ABOUT GERMAN PRODUCTIONS:
CLICK ON THE POSTER ABOVE OR HERE
THE BARTER THEATRE - (LORT theatre)
The State Theatre of Virginia
(audience of 160,000 each year)
"The hit of the autumn season." Barter Administration.
"What in the world, I ask you, is not to like about Barter Theatreís "Iíll Be Back Before Midnight".
It's guaranteed that you'll laugh, gasp, maybe scream, and definitely cheer the ending."
Bristol Herald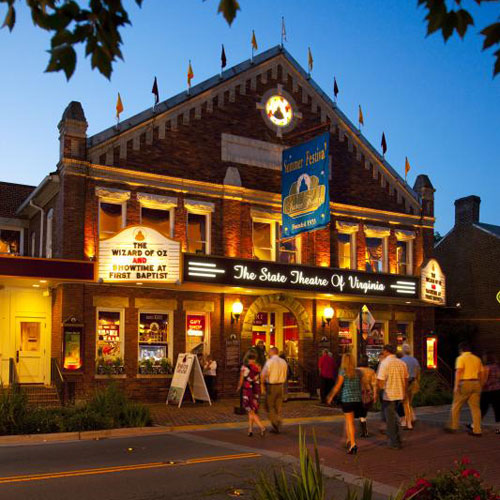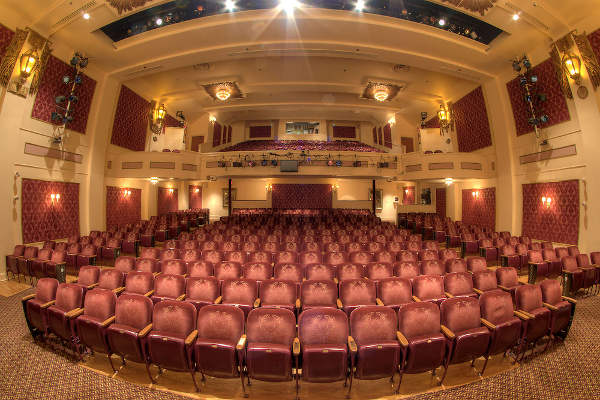 2019 WARSAW, POLAND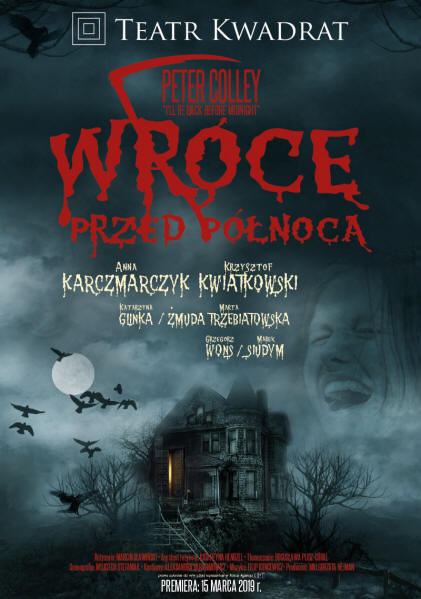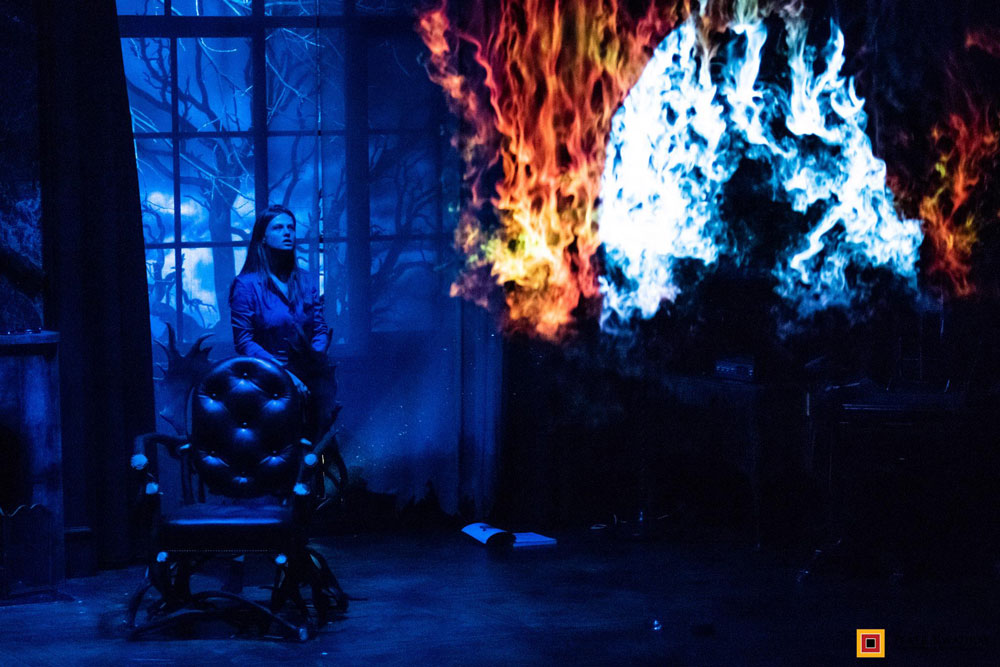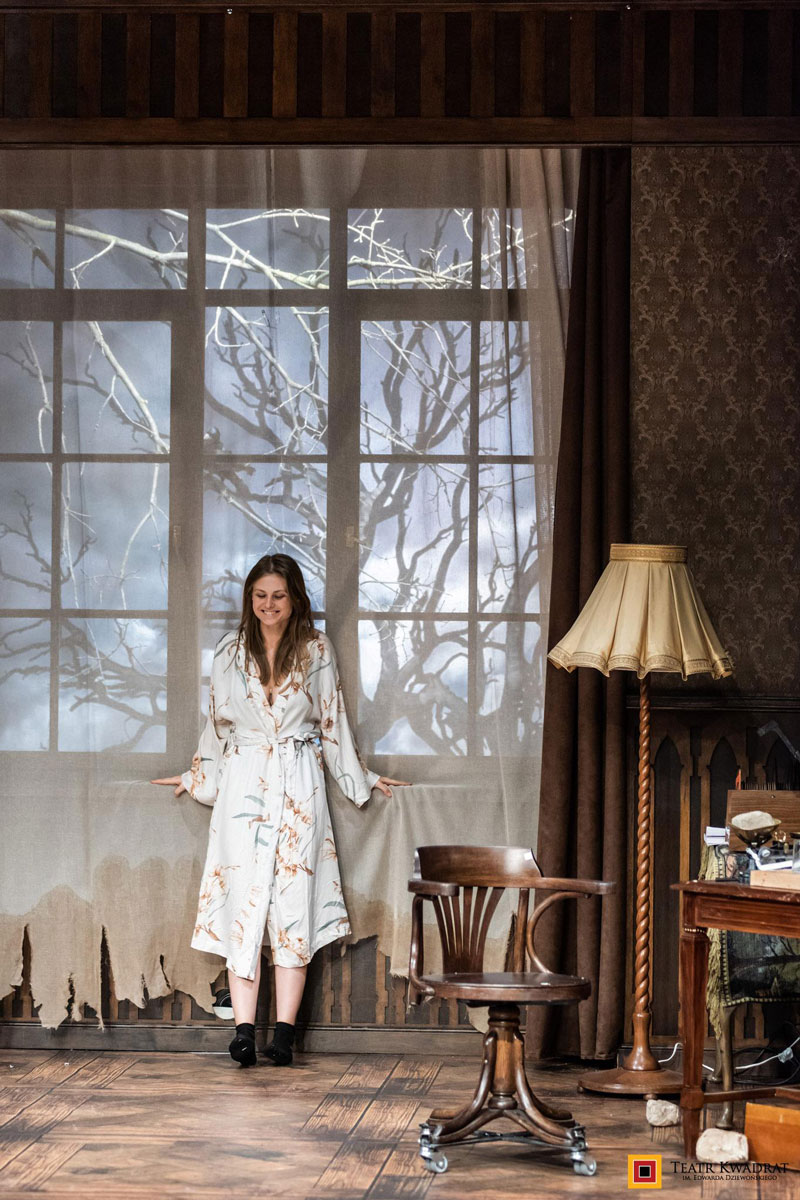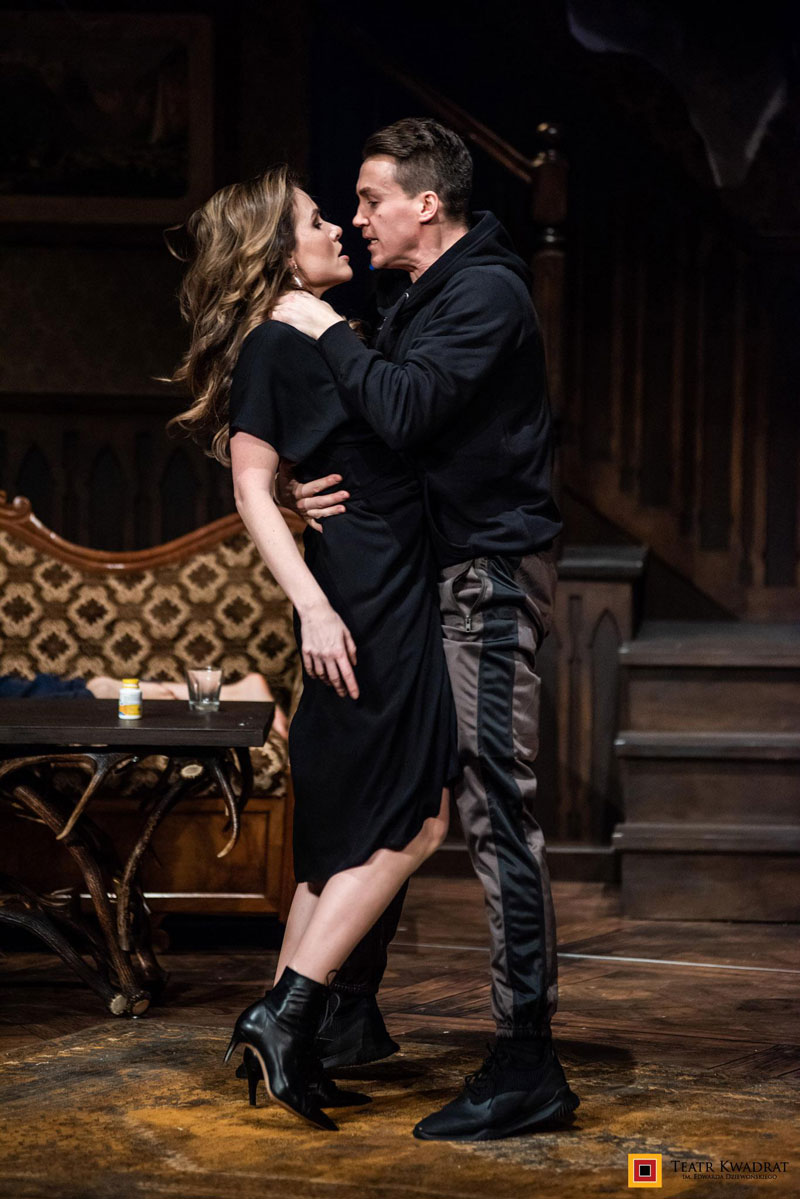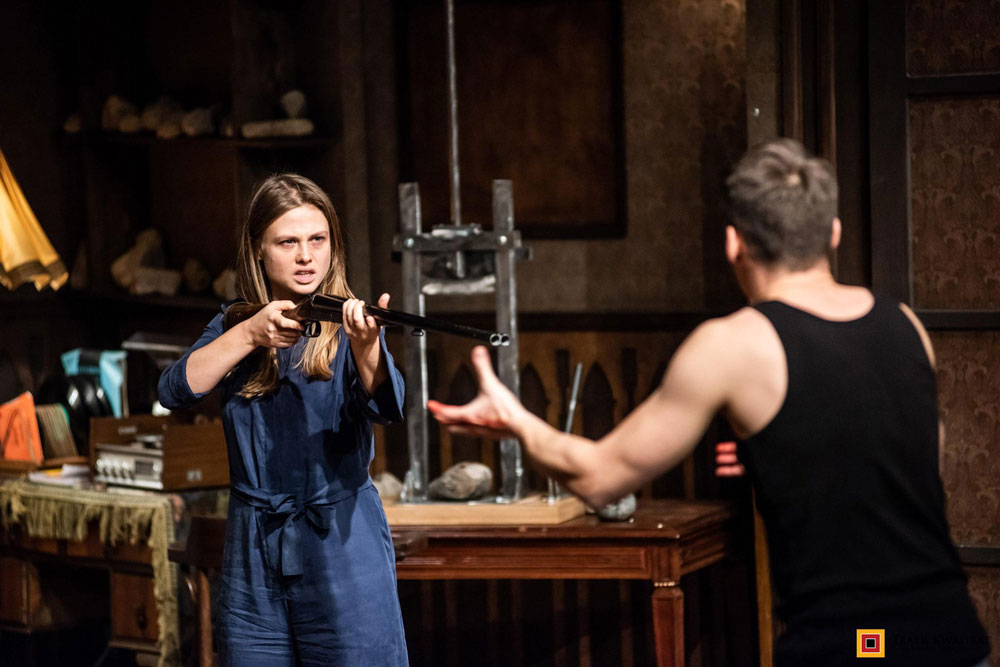 2016-19 IN POLAND at the historic Żeromski Theatre (built 1879):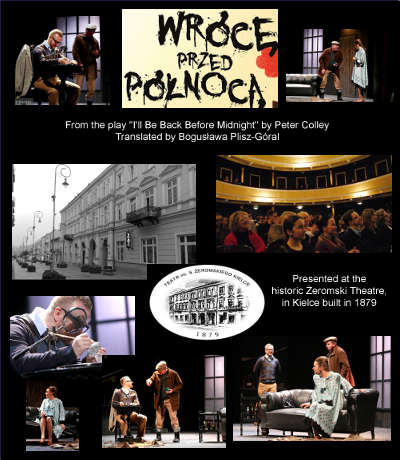 CLICK HERE OR ON THE PHOTO FOR MORE INFO
TO SEE PHOTOS & REVIEWS OF THE RECENT LOS ANGELES PRODUCTION CLICK ON THE PICTURE BELOW



2013 Los Angeles premiere at The Colony Theatre ("one of 25 Notable US Theater Companies" - Encyclopedia Britannica Almanac).
"Peter Colley's roller-coaster play contains the kind of stomach-dropping twists that will make you hoot with laughter
even as you clutch your theater companion's sleeve. There's something scratching at the window behind those dusty
draperies, and finding out what horror lurks is all part of this entertaining production's fun."
Los Angeles Times (F. Kathleen Foley)
I'LL BE BACK BEFORE MIDNIGHT has been described by the Toronto Globe & Mail as the most widely produced stage play in Canadian history.
It has been produced in 30 countries, 48 of the 50 states in the U.S. and every province in Canada. It has broken numerous box office records
including two record-breaking UK National Tours. It was made into a Hollywood feature film starring Heather Locklear, Ned Beatty,
Robert Carradine, and Susannah York.
RECENT PRODUCTIONS: the Shanxi People's Dramatic Arts Co in Xi'an China, The Cortland Repertory Theatre, New York,
the famous Mill At Sonning Theatre on the banks of the Thames near London, The Huntington Playhouse plus many others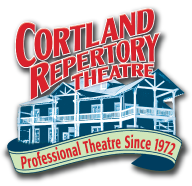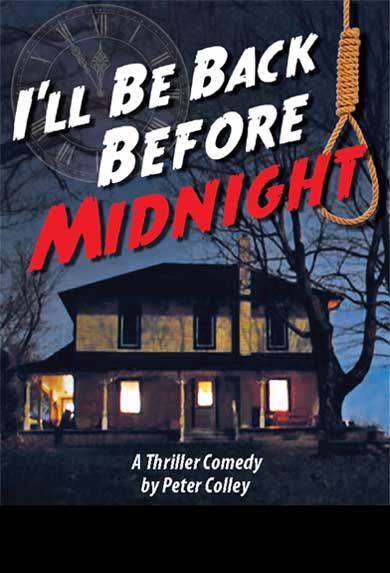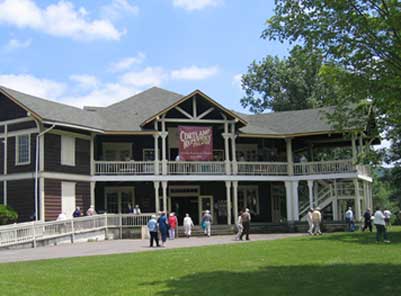 Cortland Repertory Theatre 2013
"MURDER MOST FUN!" Syracuse Times, 2013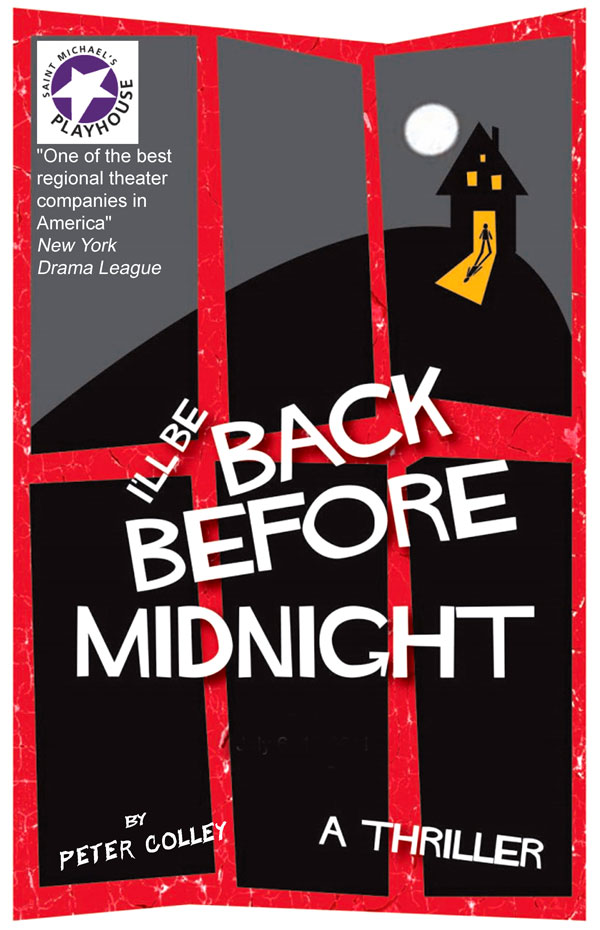 St. Michael's Playhouse, Vermont
"One of the best regional theater companies in the US" - New York Drama League.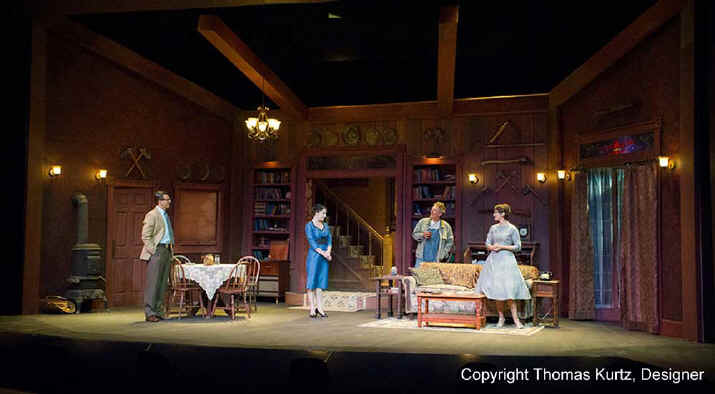 Musical scores for the play have been written by Cosimo Gianluca Attanasio
(for the Italian productions) and John Robey.
Review: "The script keeps the dark laughs, scare chords like pop-out monsters in a state fair spook house ride, and the more ominous revelations percolating right up to one of the better act breaks Iíve seen. The quartet of actors keeps the ambiguity and tension rolling from the beginning, and leaves the audience exhilarated and talking into the night air." Ithaca Times 2013
READ FULL REVIEW HERE SEE BROADWAY WORLD STORY & PHOTOS HERE
Review (just in): "MURDER MOST FUN! There are lots of gothic details about gossip, possible murders, ghosts, omens and a creature who lurks at the nearby quarry. None of this may sound like grist for comedy, but there are laughs aplenty, buoyed by the general air of menace and tension. What we get are laughter in one place, and things going bump in the night in another. We also get plenty of surprising reversals; as in Sleuth and Deathtrap. [The character of] George with his many tics, like a mugful of whiskey instead of coffee, his deadly jokes, and his lip-smacking delight with the grossest material - works superbly." Syracuse Times, 2013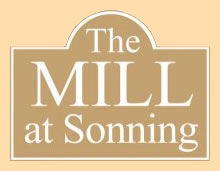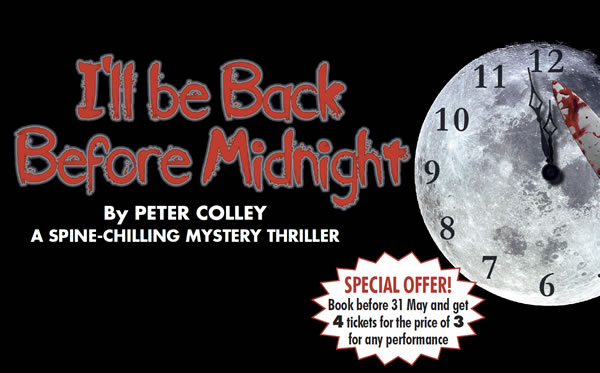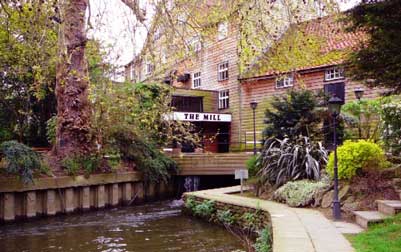 An 8-week run at the beautiful Mill At Sonning, on the banks of the Thames near London, UK, 2013
"One of the most celebrated thrillers of all time" HugoFox.com (Hampshire, UK)

TO READ THE MILL AT SONNING REVIEWS AND SEE PHOTOS CLICK HERE

In 2012 the Metro Theatre in Vancouver had its 50th Season and produced a season of the most successful plays of the last 50 years.


I'll Be Back Before Midnight was chosen to be one of those plays.
"Packed with plot twists and, if the opening night audience was any indication, you'll jump out of your seat. Colley is a fine storyteller." The Column, Dallas, 2017
"If you love a ghost story, you wonít want to miss this thrilling, comic production. A compelling script makes Iíll Be Back Before Midnight a surprising evening that is fresh, dark, and horrifyingly twisted. Scream, laugh, scream again and hang on to your seats!" Kansas City Star, 2009
"This thriller will have you on the edge of your seat - literally! This reviewer slid down in her seat after screaming and jumping on more than one occasion. There is a lovely balance between humour and fright infused with some great sound and lighting effects. I cannot recall the last time I was talking out loud at a live production: "Don't go to the window!" "Grab the gun!" The ensemble complimented each other nicely and the character of George was so heart warming, I instantly 'loved' him - as did last nightís audience. If you're in the mood for some Halloween 'frighting,' or want to see a great show, get down to The Palace Theatre and check out I'll Be Back Before Midnight." 3Ĺ out of 4 stars. The London Beat (Canada), 2010
"More than just a thriller or a murder-mystery, this is a really good play... It is at once a mystery, a psychological thriller and a horror story with as many laugh-out-loud moments as ones that will make you jump out of your seat. It will keep audiences surprised to the very end. A night of fun and fright!" Hauraki House Theatre, New Zealand, 2013
"Its like being around the camp fire with your life best friends and telling the best ghost story of the evening. Its incredible." Millbrook Playhouse 2012
"A Chilling Evening Down on the Farm." New York Times
"Iíll Be Back Before Midnight will have you grinning murderously." Providence Phoenix (RI)
"Thereís a gut wrenching double reverse uppercut fake-out or two in this show." Kulture Digest
"Mounting suspense and surprising twists... sinister motives lurk beneath the solicitous surface. The actors turn stage characters into a complex, edgy human beings. The role of Laura mixes glamour, jealousy and anger to create yet a compelling personage, she is fascinating to watch as she slinks around in her silky white nightgown like a ghost in her own right. Farmer George is a gregarious and humorous figure who drops by with his stories and a thirst for yet another drink of whiskey, but adds yet another dimension to this strange ensemble that meet in this household of nightmares and madness. Together they turn this familiar country scene into a world of sudden blood-curdling terror. It's not too early for Halloween thrills and chills at the theatre. Be prepared to be scared out of your wits." James F. Cotter Times Herald-Record (serving New York's Hudson Valley)
"A mystery worthy of Edgar Allan Poe." Barnsley Chronicle 2015 (UK)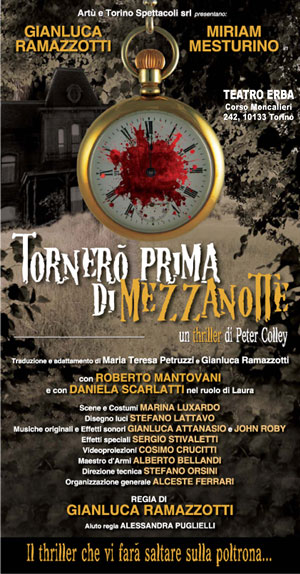 2011 productions in Italy and Shanghai, China. For more info click on the posters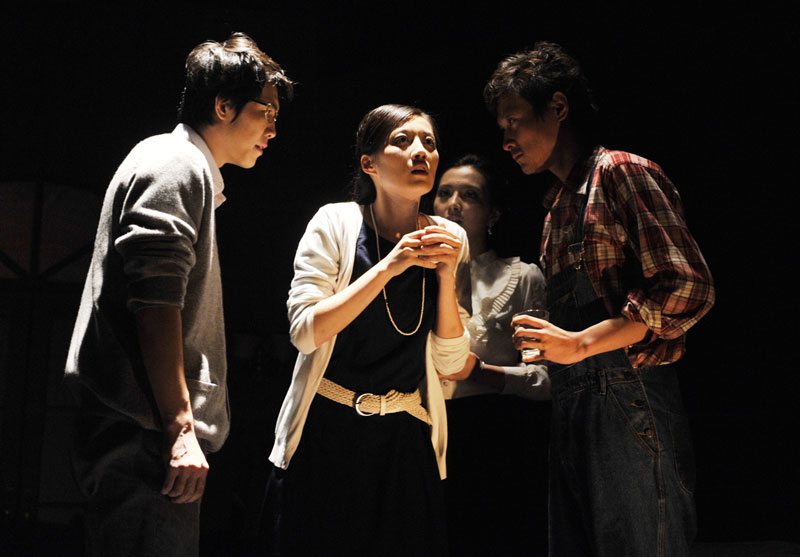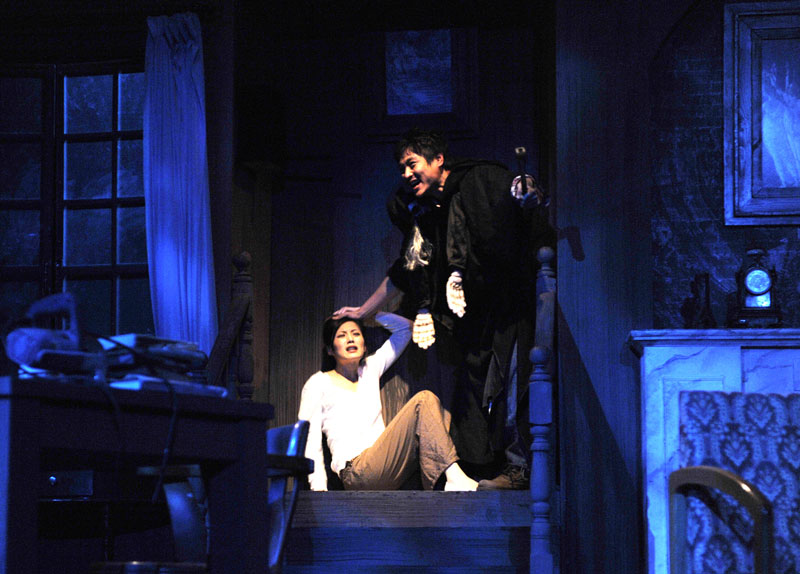 Chinese Production, Shanghai, 2012 - also X'ian 2014-15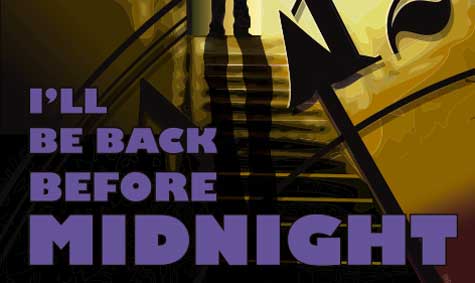 Vancouver, British Columbia, 2015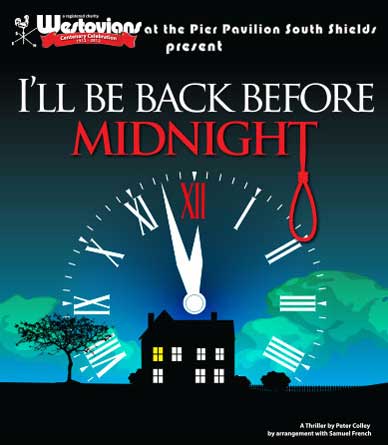 Nairobi, Kenya, 2011 and The Pier Pavilion South Shields, England, 2012
"One minute youíll shrink back in your seats in fear and then the next youíll laugh uproariously. "Midnight" is a theatrical rollercoaster ride with plenty of things that go bump in the night. Itís a wonderful combination of comedy and mystery." San Juan Theatre (WA), 2010
READ REVIEWS, SEE PHOTOS AND VIDEOS OF THE AMERICAN HEARTLAND THEATRE'S 2009 PRODUCTION: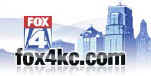 "A wonderfully funny and spooky opener for the 2009/10 season. A first-rate thriller." Fox TV - KC.
"Midnight" was nominated for 9 New Zealand 2008 NAPTA Awards!
Winner "Best Play"
Manchester Evening News Award, Best Production.
The world famous Cambridge Footlights (Monty Python, Beyond The Fringe, Borat) produced I'LL BE BACK BEFORE MIDNIGHT in 2007.
| | |
| --- | --- |
| | |
| For details on the Cambridge Footlights production: click here. | Theatre Orangeville 2009 |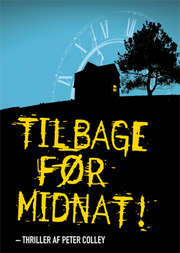 Denmark and Portugal 2010
A new Danish translation at Jomfru Ane Teatret! To go to their website, click here. Also in 2010 a new Portugese translation called "Voltarei Antes Da Meia-Noite" by Teatroesfera, Lisbon, Portugal, a Dutch translation called "Voor Middernacht Ben Ik Terug!" and a German translation titled "Gšnsehaut" which was a hit in 2007 in at Theater Blutenburg, Munich, Germany.
REVIEWS:

"A contemporary classic of the genre."

W. Baird Blackstone - Vancouver Courier

"No amount of praise seems excessive... youíll either be shivering in your seat or rolling out of it with laughter."

Ari Salant - New York Theatre Voice

"Midnight!" is good enough for Broadway... it's a first rate thriller that will scare the daylights out of you... The opening night audience was ready to jump out of its skin with fright... It should become part of the standard stock repertoire."

Doug Bale - London Free Press (Ont.)

"O foul and fearful! You will certainly scream and laugh in the same breath. O horror Ė a play to be enjoyed!. You canít help but be entertained by this homage to Agatha Christie - every character did it, except the butler because there isnít one. For people who want a justification for going to the theatre, this play actually reveals how politicians and terrorists can tap into our fears so easily - of course Iíll Be Back Before Midnight was never meant to bear responsibility for such heavy thoughts, so donít worry, be happy and you will indeed have as the program advertises: "A wonderful night of blood-curdling fun!". "

Frank Malone, M.A., F.A.C.E., Canberra, Australia

To read great reviews from a production at Britain's historic Coliseum Theatre (near Manchester): click here


Poster design: Elliott Smith

Blyth Festival

"This play is rich in plot twists, wicked characters and macabre developments... but this is also a cleverly written play... complex and colorful... It pushes you to the edge of your seat... thick with suspense... and WOW, what an ending!"

Mark Anderson - The Advocate (New Hampshire)

"More than just a thriller or a murder-mystery, this is a really good play... It is at once a mystery, a psychological thriller and a horror story with as many laugh-out-loud moments as ones that will make you jump out of your seat. It also will keep audiences surprised to the very end. It's as thrilling as a rollercoaster and you never know if anyone is quite what they seem."

Bill Blankenship - Capital-Journal (2006)

London Free Press

"More spine-chilling than Deathtrap. My ears still ring from the screams of the girls behind me... The end is such a surprise and such a relief that the audience explodes in cheers. A block-busting box office success."

McKenzie Porter - Toronto Sun

"Wonderfully spooky... somewhere between an Agatha Christie mystery and a Hitchcock thriller. Peter Colley sends up the haunted house bit with witty dialogue, and at the next moment interrupts the audience's laughter with a heart-thumping scare... A really good ghost story."

Debra Sharp - Toronto Globe and Mail

"Midnight" is the perfect concoction of suspense and mayhem mixed with just the right amount of comic relief... There are some spine-tingling scenes that had the opening night audience gasping, shouting and begging for mercy. If you don't jump out of your seat at least once during the evening you've been endowed with nerves of steel.Ē

Richard Whelan - The Stratford Beacon

Theatre Royal, Windsor

"I just watched most of the second act through the shielding fingers of my right hand... but even then I saw enough of it to set me screaming out loud at least three--oh, hell, it was probably four times!

See it if you dare!"

Nicholas Reed - Vancouver Sun

"Everyone who has seen "I'LL BE BACK BEFORE MIDNIGHT!" agrees that it is a thriller extraordinaire... one of the best productions ever staged by the Lighthouse Theatre."

The Maple Leaf

"Playwright Peter Colley did a sensational job when he wrote ďI'LL BE BACK BEFORE MIDNIGHT!Ē - a play where past and present, truth and illusion entwine to create an atmosphere of chilling suspense and intrigue."

Nicki de Vries - The Brunswickian

The Toronto Sun

"Amazingly successful thriller... likely to be back again and again! Phenomenal... a stratospheric scariness rating!Ē

Doug Bale - London Free Press

"If you're looking for a night of excitement, catch "I'LL BE BACK BEFORE MIDNIGHT!", Gryphon Theatre's spine-tingling new production. This fun chiller-thriller glues you to the edge of your seat with surprises, conspiracy and a climax that keeps everyone guessing until the final curtain. The comic relief [is] screamingly funny... as playwright Peter Colley has skillfully interwoven the laughter with the horror... an emotional roller coaster ride... with more twists and turns than a country road!"

Michele DeLorenzo - Barrie Banner

"The most riveting production of the year. A must-see! Extremely well-written... never predictable... the most disturbing thing about the play is the playwrightís devious mind that was able to conceive of such a plot. He controlled his audience entirely while making us laugh"

The Barbados Advocate & Sun - Barbados, West Indies

Vancouver Playhouse

"A genuine thriller that guarantees to scare the pants right off you... well-developed and surprising plot twists... hilarious verbal exchanges.

"I'LL BE BACK BEFORE MIDNIGHT!" will have you on the floor, laughing or hiding.

Enjoy!"

Len Eichel - Arts & Review (Vancouver)

"Theatre-By-The-Sea's new comedy-thriller is guaranteed to scare you... it kept the audience laughing and jumping... everyone was on the edge of their seats!"

Susan Littlefield - Rochester Courier

"Peter Colley's thriller had the audience riveted to their seats with an effective blend of comedy and suspense... enjoyed every terrifying moment... the best play of the season."

Cheryl Bauslaugh - Simcoe Reformer

"It tingles the spine and sends goose bumps up the arms... the opening night audience collectively perched on the edge of their seats... All the little nuances of an underlying scheme gradually build to a nerve-shattering climax that was done in superb fashion! It delightfully and deliciously scared the living daylights out of the audience!"

Holly Young - New Hampshire Magazine

Toronto Globe & Mail

"Theatre New Brunswick's production is an acute roller-coaster ride of a thriller, relentlessly terrifying an audience that loves every minute of it. The capacity crowd gasped, stifled shrieks, laughed nervously, clutched the arm next to them and applauded heartily with relief as the final Act closed."

Elaine Bateman - Saint Croix Courier

"The reason for the sold-out houses... is that the play is so much fun. The character of George is the funniest farmer since Pa Kettle!"

Dave Watson - Vancouver Press

"You know a mystery-thriller is successful when you leave finger gouges on the arms of the theatre seats. "I'LL BE BACK BEFORE MIDNIGHT!" is a knuckle-whitening adventure of suspense and drama!... a night of fun and fright!"

Ian McKinnon - Vancouver Comment

Belfry Theatre, Victoria

"If you've never seen "I'LL BE BACK BEFORE MIDNIGHT!" it's hard to appreciate just how much pleasure you can have laughing and choking in rhythmic alternation! It is an astute concoction of intriguing characters, tangled psychological conflicts and shameless theatrics... hilarious... as it drives us toward a comic abyss!"

Lyle Slack - Hamilton Spectator

"Cardiac suspense punctuated by vital comic relief... near-perfect pacing... sent shivers up the audience's spine!"

Paul Milton - Nanticoke Times

"Thrillers, if performed well, can be scarier on stage than on screen, and the Spokane Civic Theatre has performed the thriller "I'll Be Back Before Midnight" well indeed. This oft-produced play is an artfully contrived tale of murder, madness and ghosts... yet many of the chills are of a psychological variety. There are some serious psychological undercurrents at work in this unhappy little threesome, but we don't find out until the end exactly what they are. I'll Be Back Before Midnight" delivers just what it's supposed to deliver: some good shivers and a thoroughly entertaining evening of theater."

The Spokesman Review (Knight-Ridder/Tribune) 2006


Theatre New Brunswick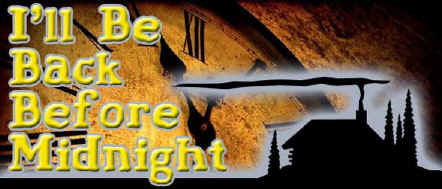 Huntington Playhouse - 2013
CRITIC'S PICK - Baltimore City Paper 2006
"Midnight" was declared the best production of the Quonta Regional Drama Festival.
"In the 24 year history of our theatre our some long-time audience members still talk about "I'll Be Back Before Midnight" as one of their favorites." Elmira Theatre 2007.
CATA Award and NODA Award (2007) winner in Great Britain.
"I'll Be Back Before Midnight is still one of the most talked about shows we have produced and we can't wait for the next production of a Peter Colley play". Putnam County Playhouse, USA.
To see photos of some of the theatres that have done MIDNIGHT, click here.
WANT EVEN MORE? LIKE ITALIAN? SEE THE POSTERS AND REVIEWS OF THE ITALIAN PRODUCTION CLICK ON THE FLAG:


For information on the movie version of the play CLICK HERE
A technical manual for this play is available from this link:
(To see the TECHNICAL NOTES Click here )

Article From The Fairfax Times 2010
"I'll Be Back Before Midnight" strikes a nerve
You're in the living room of a farmhouse, its generous lines reflecting the prosperity and optimism of its builders 100 years ago. It is the springtime of the year, so the sunshine streaming through the bay window is bright and clear.
Sounds cozy and inviting, doesn't it?
But then you realize there's an air of decay, a layer of decades-old grime, and a sense of exhaustion in the peeling wallpaper and the worn, unmatched furniture.
Nightfall strips the mask away completely. That's when Jan Sanderson hear the sounds.
Her husband Greg doesn't hear them. His sister Laura doesn't, either. And it doesn't seem to bother them that a murder was committed, right in this very room, 50 years ago.
That's according to George, the neighbor who ... well, he seems friendly enough. But you can hear the sounds, too. Are you going a little crazy, like poor Jan?
Still, the place is at least wired for electricity. So Jan can play her stereo and try to recover her emotional balance.
Then the lights go out.
In the split second before your eyes adjust to the dark, you hear ...
Well, there won't be any plot spoilers in this article. You'll have to see for yourself what happens with the unsettling "I'll Be Back Before Midnight." Make no bones about it: "I'll Be Back Before Midnight" contains terrifying sequences of events and is not recommended for young children or for anyone who has a heart condition.

North American version of the script available from:

U.S.A.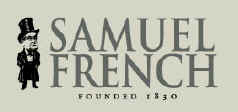 Samuel French Inc.
235 Park Avenue South Fifth Floor New York, NY 10003
Toll Free: (866) 598-8449 Local: (212) 206-8990 Fax: (212) 206-1429
www.samuelfrench.com info@samuelfrench.com

"Midnight" was originally published under the imprint of Bakers Plays which is now part of Samuel French Inc (New York). Samuel French also handles the amateur rights and some professional rights in the U.S.A.

CANADA
The Playwrights Guild of Canada
401 Richmond St. W., Suite 350
Toronto ON, M5V 3A8 Tel: (416) 703-0201 Fax: 416) 703-0059
WEB SITE: www.playwrightsguild.ca E-MAIL: mailto:info@playwrightsguild.ca

The Playwrights Guild handles the amateur rights of this play in Canada. For all other rights please contact the author at his personal email address below:

British version of this script (which differs from the North American version) available from:
ENGLAND
Samuel French Ltd.
24-32 Stephenson Way, Kings Cross, London NW1 2HD, UK Tel: (44207) 387-9373 Fax: (44207) 387-2161
https://www.samuelfrench.co.uk/
Samuel French (London) handles the amateur and some professional rights of this play in the UK, Australia, New Zealand, and South Africa, and some other English-speaking countries. For all rights contact the author at:
The above email address is a graphic so that SPAM email harvesting programs cannot see it. You must manually type in the email address! Thanks!

Available in an Italian translation by Sergio Jacquier
Available in a French translation by Josťe la BossiŤre


The Vertigo Theatre Calgary 2006


Langham Court Theatre, 2005


The Century Theatre, Great Britain National Tour


The Spokane Civic Theatre 2006

The New York cast.

Vancouver Playhouse on its way to a multi-year run.
Nominated for 4 Jessie Awards including Best Production.

Camping it up at the historic Totem Pole Playhouse Pennsylvania 2006 - one of America's finest professional summer theatres.
Called "Best of Weekend" by The Frederick News-Post.

Nantucket Arts Festival 2007


From a British production in 2008


Scenes from the Danish production.


The Danish cast.


Showboat Majestic, America's last Mississippi showboat.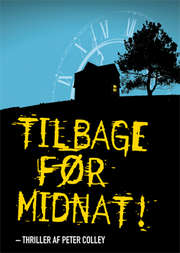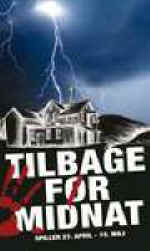 Jomfru Ane Teatret - Denmark 2007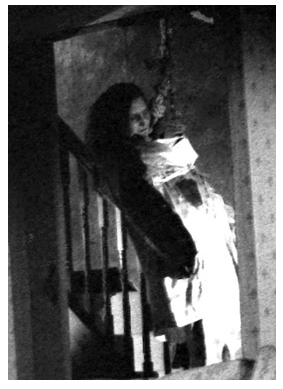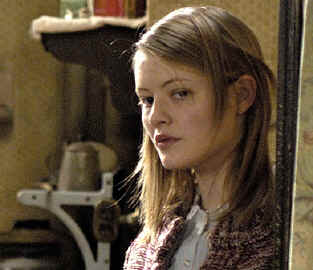 Left: From the UK, 2006. Right: Blyth Festival 2005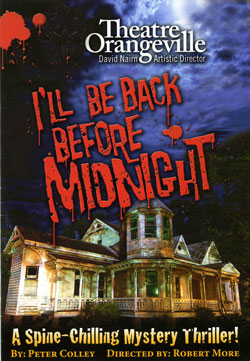 Theatre Orangeville, 2009 - to see their podcast: CLICK HERE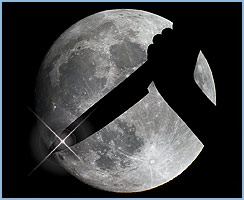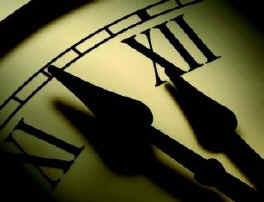 Victoria Playhouse 2009 (Left) Surrey, BC 2009 (Right)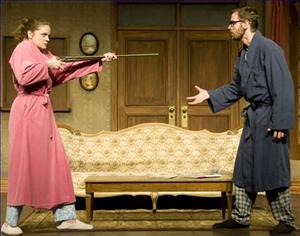 Victoria Playhouse, 2009
IíLL BE BACK BEFORE MIDNIGHT is very popular in Europe (above photos)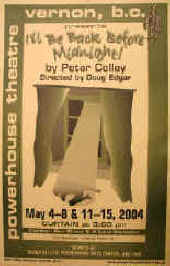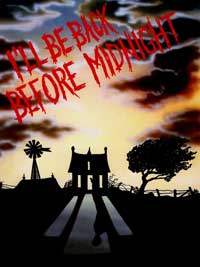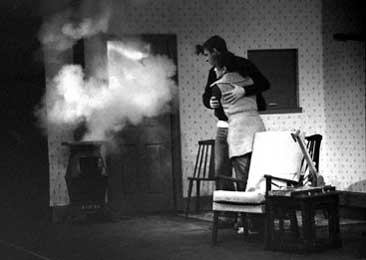 Now that's how to blow a stove (UK production)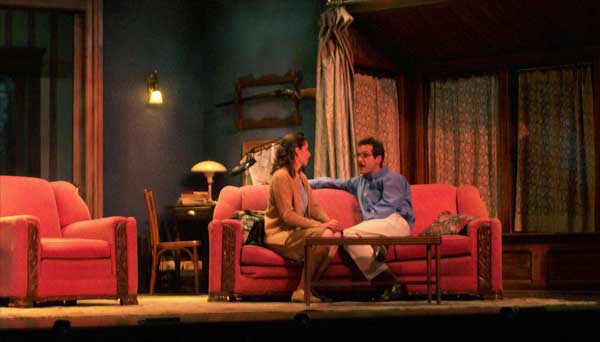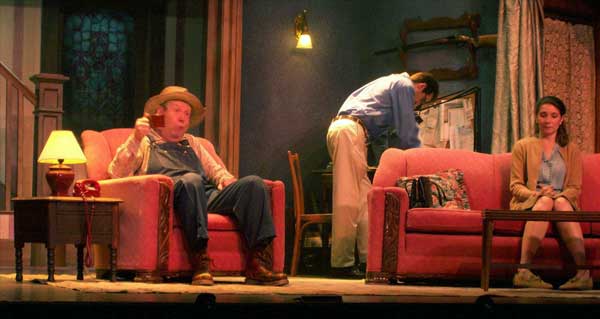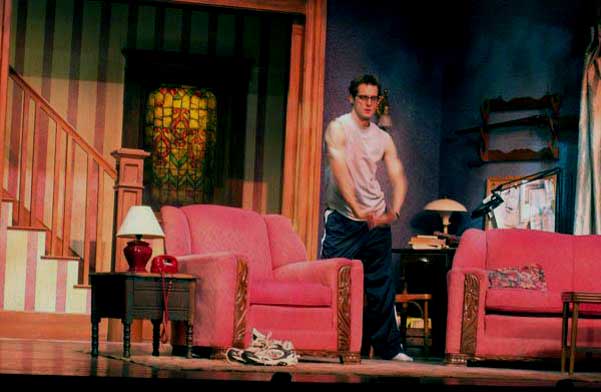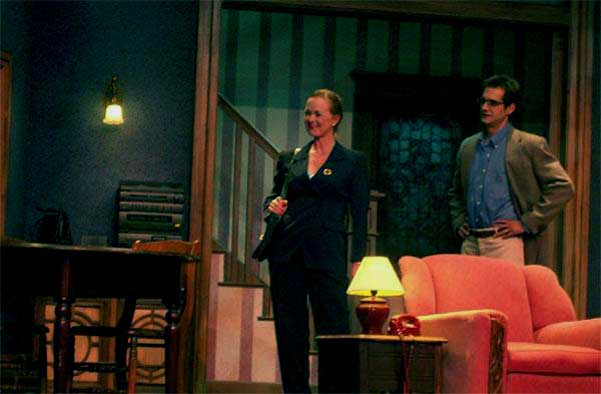 The above are from The Totem Pole Playhouse
- one of America's oldest professional summer theatres -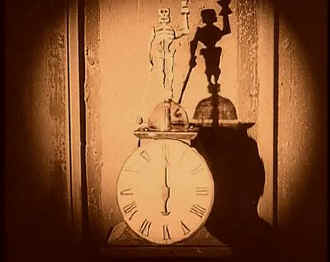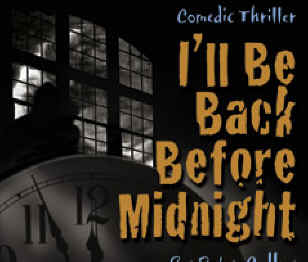 San Juan Theatre, 2010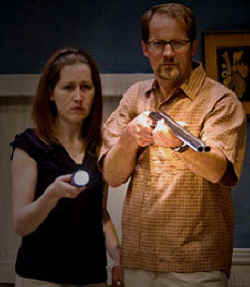 San Juan Theatre, 2010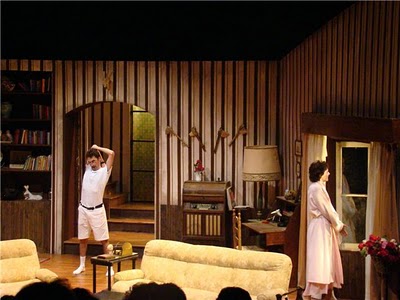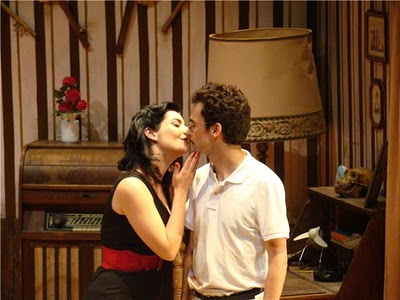 Lisbon, Portugal 2010 (in a Portuguese translation)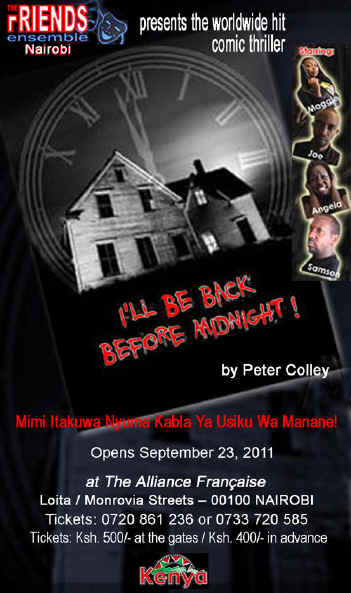 Nairobi, Kenya, 2011 and 2005


2013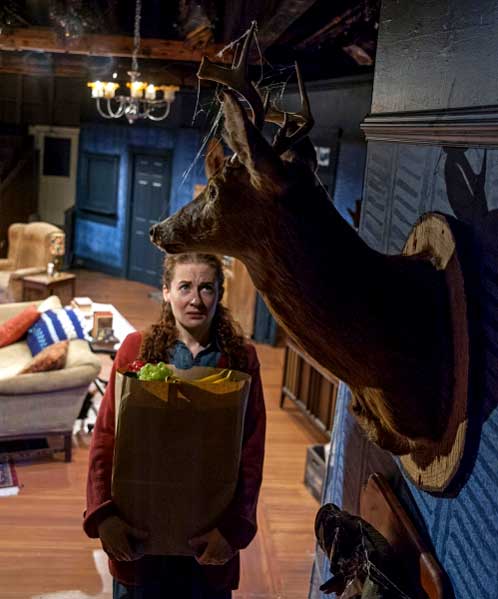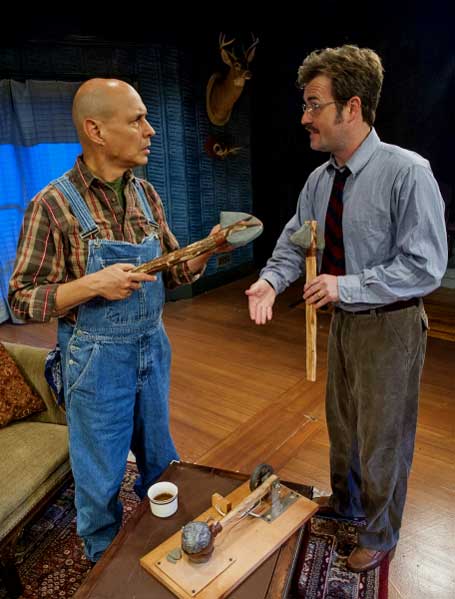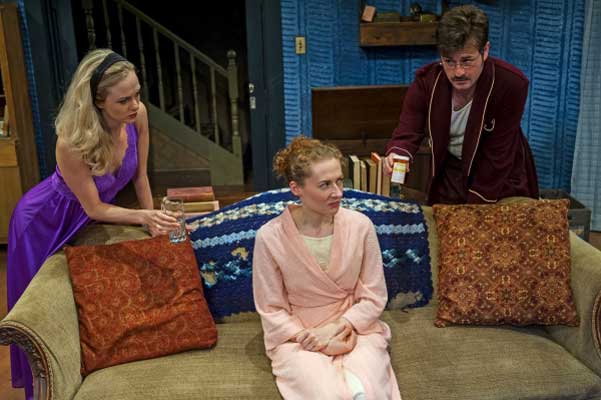 Above pictures from the Cortland Repertory Theatre, NY, 2013 (Broadway World)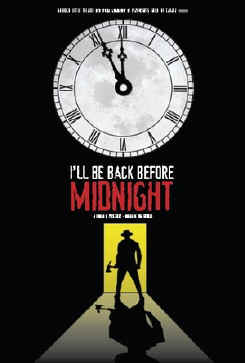 The Livery Theatre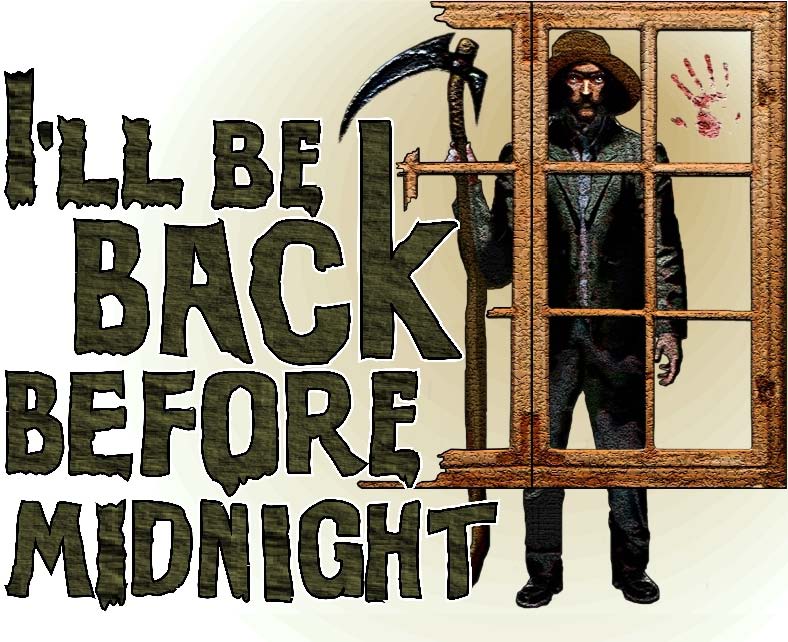 Florida, 2014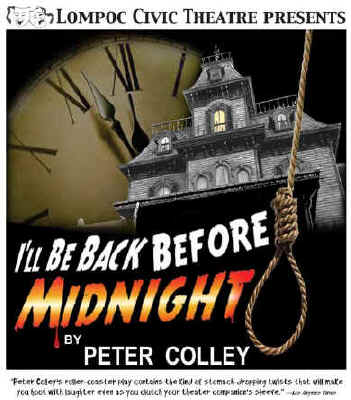 Lompoc Civic Theatre - California - 2015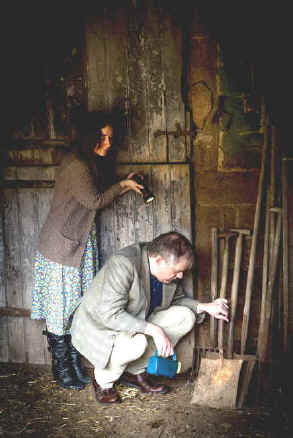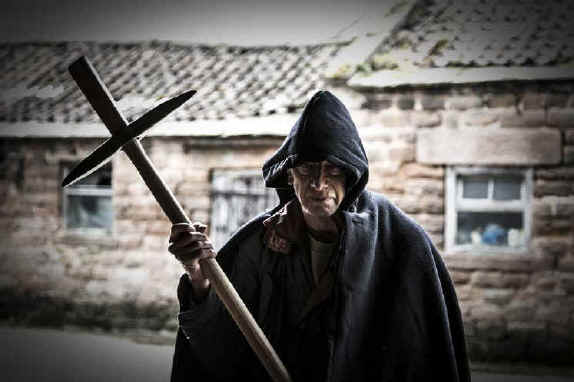 Harrogate Theatre, Yorkshire, England 2014
I'LL BE BACK BEFORE MIDNIGHT was staged with an all-black cast at
The Pantry Playhouse in the Hilton Hotel, Kingston, Jamaica (to see cast photo click here).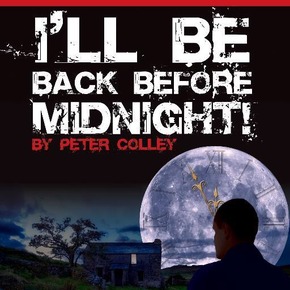 Nottingham, England, 2015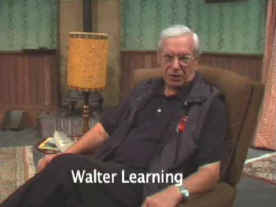 See Director Walter Learning's video about
The Canberra Rep production (Australia).
CLICK HERE.