PETER COLLEY Playwright-Screenwriter

THE VAUDEVILLIANS
(musical comedy review)
2 males, 1 female
Written and compiled
by
Peter Colley & Heinar Piller
 
Musical Arrangements and Original Music
by
David Warrack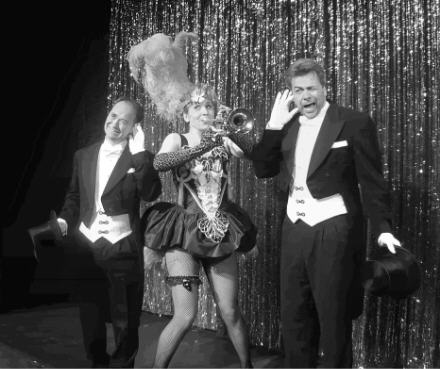 Mark Candler, Melodee Finlay and Terry Barna
THE VAUDEVILLIANS was originally produced at the Gallery Theatre in London (Ont). It has had numerous professional productions, including 8-month run in Toronto; The National Arts Centre in Ottawa, The Bronfman Centre in Montreal, the Muskoka Festival, and a tour. In 1996 there were professional productions at the Tottenham Summer Theatre and Theatre Brockville. Produced in 2004 at The Lighthouse Festival Theatre, where it had been the original show that started The Lighthouse Festival in 1980.
THE STORY:
This is the story of Vaudeville ... from its early beginnings, on to entertaining the troupes and though Vaudeville's ultimate demise with the advent of movies. It is told, through skits and music, by three vaudevillians near the end of their careers. They share memories and take the audience on a trip down memory lane, re-enacting the shows they once did, as they try to prove they still have what it takes to be Vaudeville stars once again.

The show borrows music and sketches from Music Hall, Gypsy and Minstrel Shows. Old favourites such as "Ma, He's Making Eyes at Me" and original music written for the show will make this sure-fire entertainment for audiences of all ages. The humour embraces the signature silliness and groaners that were Vaudeville and includes new sketches and old favourites such as "Who's on First".

The story demonstrates why, for some people, all of life is crystallized in that time on stage where they are allowed to entertain. But in the end, they come to the bitter-sweet realization that they can never go there again.

| | |
| --- | --- |
| Terry Barna and Mark Candler | Mark Candler and Terry Barna |

Mark Candler, Melodee Finlay and Terry Barna
The rights to THE VAUDEVILLIANS are controlled by Heinar Piller. For more details please contact:

The above email address is a graphic so that email harvesting programs cannot see it. You must manually type in the email address! Thanks!
THE VAUDEVILLIANS WAS ALSO PRESENTED AT: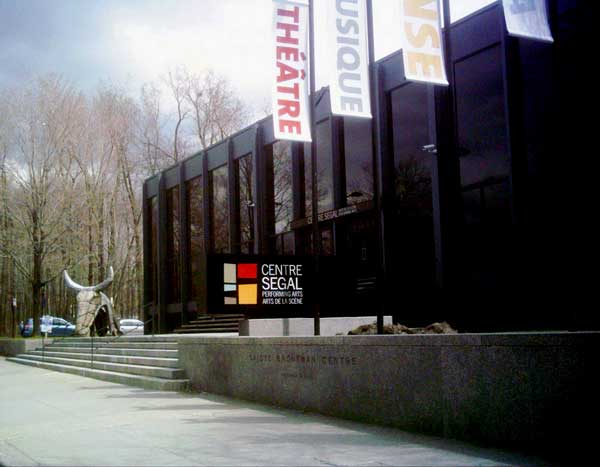 Centre Segal Arts De La Scene, Montreal
For more information on the Lighthouse Theatre, click here.
REVIEW FROM THE LIGHTHOUSE PRODUCTION: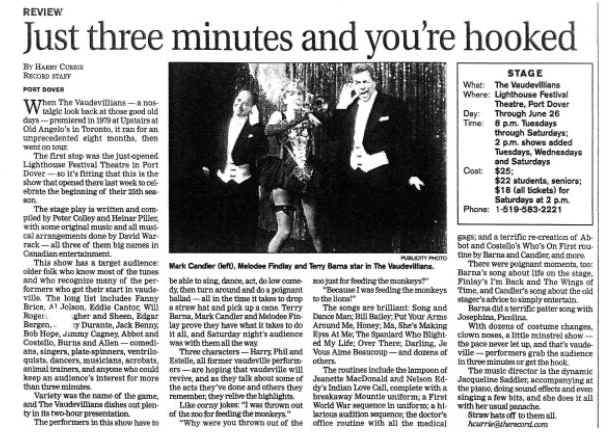 TEXT FROM THE ABOVE REVIEW:

Just three minutes and you're hooked




by Harry Currie

Record Staff

When The Vaudevillians -- a nostalgic look back at those good old days -- premiered in 1979 at Old Angelo's in Toronto, it ran for an unprecedented eight months, then went on tour. The first stop was the just-opened Lighthouse Festival Theatre in Port Dover -- so it's fitting that this is the show that opened there last week to celebrate the beginning of their 25th season.

The stage play is written and compiled by Peter Colley and Heinar Piller, with some original music and all musical arrangements done by David Warrack -- all three of them big names in Canadian entertainment.

This show has a target audience: older folk who know most of the tunes and who recognize many of the performers who got their start in vaudeville. The long list includes Fanny Brice, Al Jolson, Eddie Cantor, Will Rogers. Gallagher and Sheen, Edgar Bergen, Jimmy Durante, Jack Benny, Bob Hope, Jimmy Cagney, Abbot and Costello, Burns and Allen -- comedians, singers, plate-spinners, ventriloquists, dancers, musicians, acrobats, animal trainers, and anyone who could keep an audience's interest for more than three minutes.

Variety was the name of the game, and The Vaudevillians dishes out plenty in its two-hour presentation. The performers in this show have to be able to sing, dance, act, do low comedy, then turn around and do a poignant ballad-all in the time it takes to drop a straw hat and pick up a cane. Terry Barna, Mark Candler and Melodee Finlay prove they have what it takes to do it all, and Saturday night's audience was with them all the way.

Three characters -- Harry Phil and Estelle, all former vaudeville performers -- are hoping that vaudeville will revive, and as they talk about some of the acts they've done and others they remember, they relive the highlights.

Like corny jokes: "I was thrown out of the zoo for feeding the monkeys."

"Why were you thrown out of the zoo just for feeding the monkeys?"

"Because I was feeding them to the lions!"

The songs are brilliant: Song and Dance Man; Bill Bailey, Put Your Arms Around Me, Honey; Ma, She's Making Eyes At Me; The Spaniard Who Blighted My Life; Over There; Darling, Je Vous Aime Beaucoup -- and dozens of others.

The routines include the lampoon of Jeanette MacDonald and Nelson Eddy's Indian Love Call, complete with a breakaway Mountie uniform; a First World War sequence in uniform; a hilarious audition sequence; the doctor's office routine with all the medical gags; and a terrific re-creation of Abbot and Costello's Who's On First routine by Barna and Candler, and more.

There were poignant moments, too: Barna's song about life on the stage, Finlay's I'm Back and The Wings of Time, and Candler's song about the old stager's advice to simply entertain.

Barna did a terrific patter song with Josephina, Picolina.

With dozens of costume changes, clown noses, a little minstrel show -- the pace never let up, and that's vaudeville -- performers grab the audience in three minutes or get the hook.

The music director is the dynamic Jacqueline Saddler, accompanying at the piano, doing sound effects and even singing a few bits, and she does it all with her usual panache.

Straw hats off to them all.

Harry Currie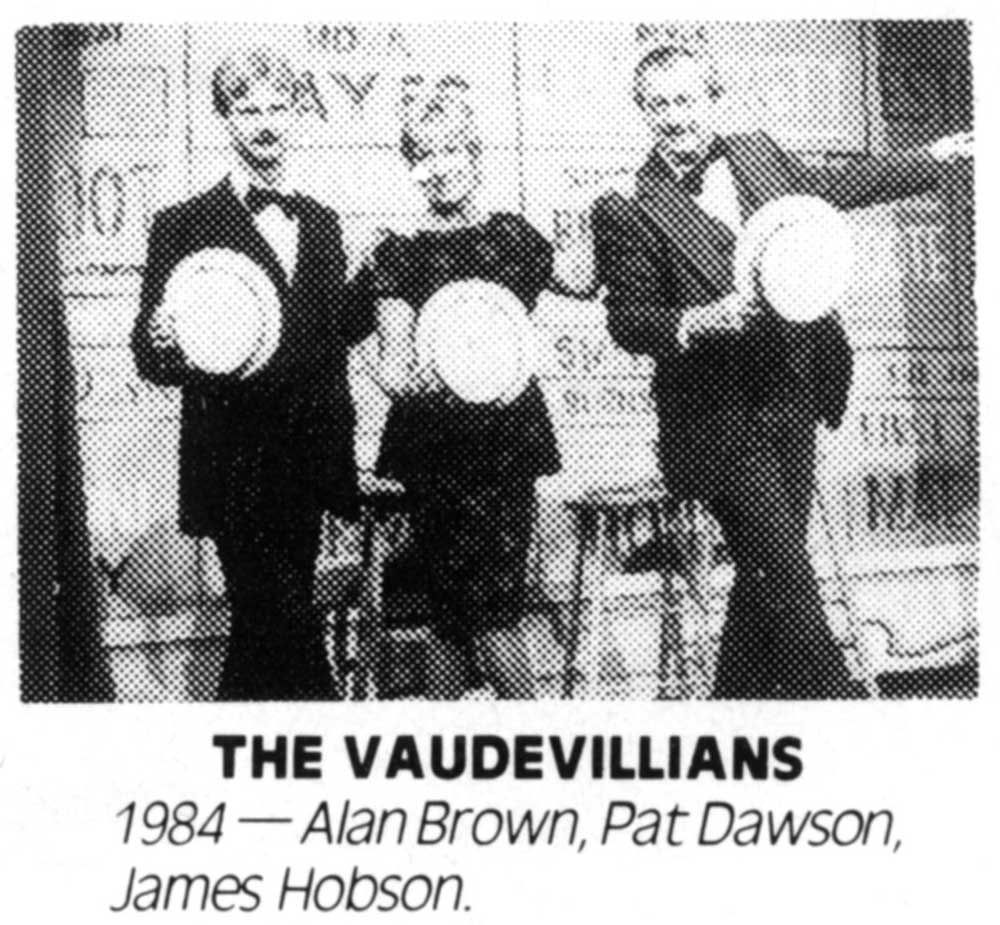 From a much earlier production at The Lighthouse