PETER COLLEY Playwright-Screenwriter
WHAT THE BRITISH PRESS SAID ABOUT
I'LL BE BACK BEFORE MIDNIGHT!


Production History: Britain's Salisbury Playhouse produced the British premiere, and later "Midnight" was toured all across Britain by The Century Theatre. There have also been UK national tours in 2004 and 2005. Ian Dickens Productions, the largest UK producer of touring plays (300+ productions), announced that the 2005 tour broke the company's box office records (NOTE: The UK version of the script is slightly different from the North American version).

It has been produced at Britain's historic Theatre Royal, Windsor, starring Dennis Waterman, star of the British TV series "Minder" and "The Sweeney", and many other professional theatres across the country including Theatre Royal Winchester, The Grand Swansea, Theatre Royal Margate, The Darlington Civic, The Octagon Theatre Yeovil, The Pomegranate Theatre Chesterfield, The Marina Theatre Lowestoft, The Palace Theatre Westcliff, The Middlesborough Theatre, The Joan Plowright Theatre and many others. To see reviews of the recent production at the Oldham Coliseum (Near Manchester) click here. In 2013 at the beautiful "Mill At Sonning Theatre" nestled on a scenic part of The Thames near London.
TO READ THE MILL AT SONNING REVIEWS AND SEE PHOTOS CLICK HERE
REVIEWS:
"Ghostly goings-on gripped the audience... somebody behind me screamed in fear and all of us were on the edge of our seats, but there were lots of laughs to ease the tension. I was absolutely petrified... brilliant scary effects... superb throughout." Sue Butterfield - The Telegraph
"Combining spine-chilling terror with laugh-out-loud comedy is no mean feat, and yet I'll Be Back At Midnight aims to have the audience jumping out of their seats with fear one minute and howling with laughter the next." The Argus
From the Aldeburgh and Southwold Theatres: "This is a top-rate thriller that has the audience of the edge of their seats from the opening scene to the superb climax. The play, although a tense thriller, has many moments of comedy which help relieve the tension and add to the enjoyment. One minute the audience is laughing out loud and the next it is gasping at moments of shock-horror as the plot unfolds... it has all the ingredients needed by a tense thriller and the way the suspense builds and builds is simply tremendous."
David Lennard - East Anglian Daily Times
| | |
| --- | --- |
| | The Grand Swansea 2005 |
| Theatre Royal Windsor | Theatre Royal Winchester 2005 |
"A CLASSIC OF ITS KIND!" "I'll Be Back Before Midnight!" will probably become a classic of its kind. It has all the Gothic horror ingredients - but they are strung together with a clever blend of comedy and horror that alternatively sustain and lift the tension... (it) is beautifully orchestrated and meticulously timed as the audience is shot from one heart-stopping moment to the next. This is the best thing of its kind I have seen... and the audience thought it was a scream in both senses of the word."

Philip Andrews - Sheffield Star

"THE WHOLE AUDIENCE JUMPED OUT OF THEIR SEATS!"
"It's funny how a decent thriller sucks you in. Only a few minutes into "I'll Be Back Before Midnight!", you are already trying to work out who is going to do what you don't yet know is about to be done!! ... but then one shock followed another until you didn't seem to have time for guessing any more! I can't recall "Deathtrap" actually causing the whole audience to jump out of their seats, and then creating such animated chit-chat during the interval... Colorfully scripted, this is a palpitation-packed thriller which is leaving the audiences thoroughly satisfied... stretched the suspense to near breaking point... pure entertainment... and if the last thriller you saw went off like a damp squib, go and see this one! You won't be disappointed!"

Rod Hancox - Taunton

"HUMOUR MAKES THRILLER A MUST!"
"This riotous thriller should not be missed whatever the price of the seat... the funniest piece seen on stage for many a long day... other theatre companies will soon be falling over themselves to stage a play so rich in squeals, shrieks and sighs! ... The (play) has the oddest assortment of characters including a jolly farmer with menacing overtones, and a stone-axe-wielding university lecturer! ... Superb!"

CC - Taunton

"NAIL-BITING THRILLER"
"A taut thriller with complexities of character. A nail-biting evening of theatre... Brisk, atmospheric and suspenseful."

H. M. - The Henley Standard

"A SUPERB NIGHT OUT"
"This tense comedy-thriller captures its audience with all the subtlety of an axe plunging into an unsuspecting victim, pinning them to their seats as the tension mounts before drawing them sharply from their inhibitions with curdling screams of excitement! The play by Peter Colley contains every ingredient for a good old-fashioned thriller with an element of the supernatural to give a cold tingle down the spine... a superb night out for those who favour a fright!"

Debbie Parker - Rotherham Advertiser

"THE FUNNIEST CREEPIEST THRILLER FOR MANY A YEAR!"
"This riotous drama, straight from the Steven Spielberg guide to good adventure, is full of creaks, shrieks, and squeals... Peter Colley's play is packed with theatrical tricks, from the unearthly music to eerily appearing hands, yet leaves everything nicely balanced... full of earthy humour and home-spun philosophy... "I'll Be Back Before Midnight!" is the funniest, creepiest thriller for many a year... It keeps chiming out the chills until Saturday. Clock it if you can!"

Keith Newton - Middlesborough

"EVENING OF ENJOYABLE FEAR HAS AUDIENCE ON THE EDGE OF SEATS"
"This thriller had me jumping out of my seat, and I spent the rest of the evening sitting on the edge of it. At times there was hardly a sound in the auditorium and then there would be a gasp of shock as the suspense climaxed. A well-crafted play... (full of) nightmarish illusion... followed by the audience thankfully laughing with relief. I dare you to go to this evening of enjoyable fear."

EP - Maidenhead Advertiser

"THE FRIGHT OF YOUR LIFE!"
"Peter Colley has woven the four characters in this play into a thriller that really thrills. Tremendous... Exciting... If you don't come away having been nearly frightened to death, it is not the fault of the playwright."

Frank Terry - The Chronicle

"A gripping drama with plenty of twists and turns right up to the final climax."

Newsquest Media Group

Salisbury Playhouse, England

Theatre Royal Margate 2005
(England's second oldest theatre)

FROM THE 2004 / 2005 NATIONAL TOUR OF BRITAIN:

"A superb example of what professional theatre is all about. I was less on the edge of my seat than hiding behind it. The plot twists and turns and takes your stomach with it, leaving your nerves thoroughly knotted... highly recommended!"

Spalding Guardian

"For thrills and suspense Midnight is difficult to fault - I'd be lying if I said I wasn't gripped by every unpredictable twist in the narrative from start to finish. There were chills, mystery and jumps aplenty."

ESP Magazine

"There were times when you felt that your hair stand up on the back of your neck. I physically jumped at least twice and cried out once."

Eastern Daily Press

"Think it's impossible to be scared in the safe environment of the theatre? Well think again. Midnight can rival any film for spine-chilling twists and turns. The audience was perched in fear on the edge of our seats - quite literally. Just when you think you've guessed what's going on, you find the goalposts have been moved again. Scared? You certainly will be."

The Guide, Peterborough

Darlington Civic 2004

Devonshire Park 2005
From Cambridge Theatre (2007): "A ridiculously enjoyable blockbuster of a show. This critically acclaimed and much-loved thriller is jump-out-of-your-seat scary and laugh-out-of-your-face hilarious. Scream, laugh, scream, laugh, grab your companion's chest in terror. That's what you'll be doing." ACTS Cambridge
The world famous Cambridge Footlights (Monty Python, Beyond The Fringe, Borat) produced I'LL BE BACK BEFORE MIDNIGHT in 2007. For details click here.
To read recent Coliseum Theatre, Manchester, reviews CLICK HERE
CLICK ON THE THUMBNAILS BELOW TO SEE LARGER REVIEWS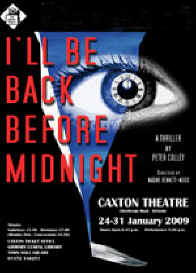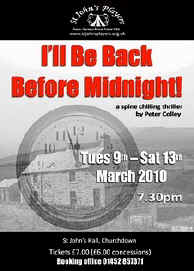 Caxton Theatre, UK, 2009 Cheltenham, UK, 2010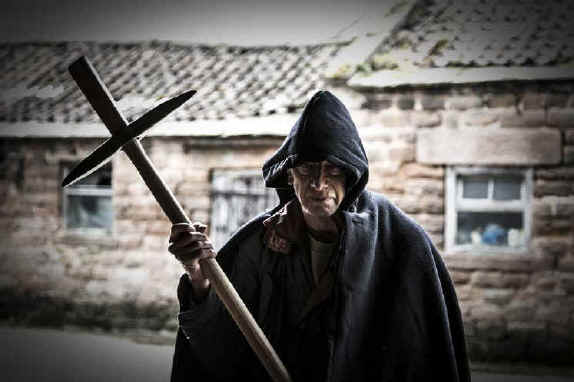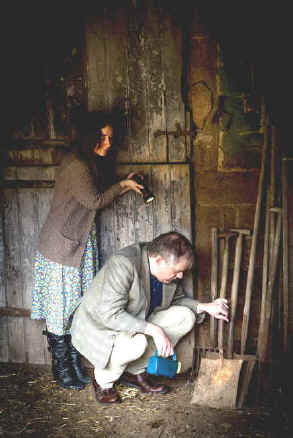 Harrogate Theatre 2014
British version of this script available from:
Samuel French Ltd.
52 Fitzroy Street, London W1P 6JR Tel: (44207) 387-9373 Fax: (44207) 387-2161
https://www.samuelfrench.co.uk/
Samuel French (London) handles the amateur and some professional rights of this play in the UK, Australia, New Zealand, and South Africa, and some other English-speaking countries. For all rights contact the author at:

The above email address is a graphic so that SPAM email harvesting programs cannot see it. You must manually type in the email address! Thanks!