PETER COLLEY Playwright-Screenwriter

STOLEN LIVES
5 Males, 3 Females (Minimum - more with doubling), 1 Multi-purpose Set)
THE STORY:
In 1990, financier Albert Walker's business empire was collapsing around him. He had two choices: one was to stay in Canada and face embezzlement charges; the other was to bolt. He bolted. But as well as taking almost $3 million of his clients' money, Albert Walker also took his 15-year-old daughter Sheena. They disappeared for the next six years. In 1996, the body of an unidentified man was found floating in the English Channel. The only identifying mark was a Rolex watch which the drowned man wore. Eventually the watch's serial number was traced to a Ronald Platt, an Englishman. The British police went to Platt's last recorded address to break the news of his death to his family. There they discovered Albert Walker living under the dead man's name, and also living with his daughter Sheena as husband and wife. But the real shock came when the police discovered that they had two young children. Suddenly this obscure and almost forgotten case became an international sensation. As the whole fabric of lies that Walker had woven came apart, an amazing story of deception and betrayal emerged.
The play traces the life of Albert Walker, and explores his relationship with his young and impressionable daughter Sheena, and how this innocent girl became enmeshed in her father's bizarre, shadowy world of half-truths, outright lies, double-dealing and murder.
Peter Colley's play premiered in 2000 at the Blyth Festival Theatre - one of Canada's most prestigious producers of new plays. (www.blythfestival.com)

Based on the true story of fugitive financier Albert Walker and his daughter Sheena, the play received excellent reviews from the local and national press (see below).

The script won a 2001 Harold Greenburg Screenwriting Award (The Movie Network).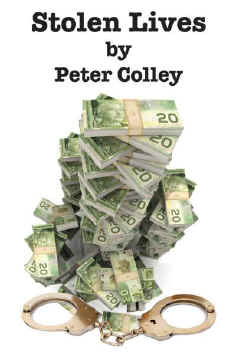 Scarborough Theatre Guild 2012

REVIEWS:

˜

"THE CHILLING FACE OF ALBERT WALKER. Stolen Lives is a spellbinding experience... Peter Colley's new play is a thrilling piece of contemporary drama - it offers an absorbing and often frightening glimpse into the mind of Albert Walker. Peter James Haworth gives a remarkable performance... A chilling portrait... The audience comes away chilled and impressed by the eerily accurate portrayal of Walker. Colley harnesses his considerable dramatist's gifts to recreate one of the most notorious and bizarre criminal cases, but Stolen Lives is in many ways his most mature and thoughtful work... The play is truly compelling, with key events re-created with both dramatic precision and psychological insight." Jamie Portman - The National Post

˜

"WALKER TALE CHILLING, CREDIBLE. This chilling portrayal of Albert Walker is more than shocking; it's also believable... The play is a gripping account with a fast pace of short, telling scenes... The character revelations, the triumph of truth - is strong." Sandra Coulson - The London Free Press

˜

"The story of Albert Walker is masterfully told in Peter Colley's new play... Colley manages to tell a very complicated story in an easy-to-understand manner. Haworth's portrayal of Walker is superb... If you enjoy true-life drama and mystery, don't miss Stolen Lives. " Margaret Stapleton - Wingham Advance-Times

˜

"PLAY LEAVES CROOK'S VICTIM 'SPELLBOUND'. No one could be a tougher critic of Peter Colley's new play than one of Albert Walker's own victims. "I was spellbound" says David Davis, whose identity was Walker's first alias, saying the play "gave him chills." Sandra Coulson - The London Free Press

˜

"Peter Colley has created a miracle with Stolen Lives, his morality tale of Albert Walker. Colley's play is a brilliant compression of the events... Unfolded with unrelenting tension. The audible gasps [from the audience] made the theatre hum." Paula Citron - Classical 96 and 103 FM Radio

˜

"ALBERT WALKER STORY COMPELLING DRAMATIC IRONY. You know a play is truly compelling when the intermission hits and you don't want to leave. Whether you know the story or not, you'll be spellbound by the play as scene after scene unfolds in fast-paced action. The scene of the murder of Ronald Platt is, in itself, worth the price of admission. It is phenomenal. At the ending... you have to shake yourself, as if in a dream, before rising to your feet and offering an immediate standing ovation. Credit must go to the actors, but the highest praise goes to writer Colley." Liz Dadson - The Kincardine Independent

˜

"Why are we so fascinated with evil? Why do the nefarious deeds of our fellow citizens thrill us to no end? There's something similarly compelling about Stolen Lives... a sprawling landscape of death and deception... this compelling story moves at break-neck pace, weaving the narrative almost seamlessly." Rick Whelan - The Stratford Beacon Herald

˜

"BRILLIANT TENSION IN STOLEN LIVES. Colley goes behind the sensational headlines to explore the feelings of those involved... We see a marriage torn apart by greed and ambition. The pace is tight and brisk, commanding our full attention throughout. Colley has written a sensitive piece of theatre." Sheila Martindale - Scene Magazine

˜

"STOLEN LIVES CONFIRMS BLYTH FESTIVAL'S STRONGHOLD ON VITAL THEATRE. The story is fascinating and Colley holds our attention as the events unfold. He portrays Walker as a predator with snake-oil charm, a misplaced conscience and an intellectual hubris that he believes places him outside the bounds of conventional morality. Colley tells us "Evil does not live only in the lurid headlines of big city newspapers, but can be sitting quietly in the pew next to us." Now that's a sobering thought." Robert Reid - Kitchener-Waterloo Record

˜

"TRUE CRIME STORY MAKES FOR CHILLING THEATRE EXPERIENCE. True crime and theatre come together with chilling results. This production works on all levels - from a great script by Peter Colley to a wonderful cast. Colley, a Blyth Festival favourite, has capsulated this eerie story and presented it wonderfully for the stage.... The lighting added to the suspense in this chilling production... A thrilling night of Canadian theatre... Don't hesitate to get tickets." David Emslie - Clinton News-Record

˜

"Stolen Lives moves briskly... in a tale of secret identities, family betrayal and murder. Rarely was there a lag, keeping the audience caught up in a tale of intrigue... Superbly defined scenes and moods." Janice Becker - The Citizen

˜

"ALBERT WALKER STORY WORTH THE RISK. Playwright Peter Colley took a risk presenting this true crime story, but it was a risk that was worth the gamble. Stolen Lives is a riveting story because of Colley's well-paced script and powerful performances. There are many chilling scenes as the play paints a powerful picture of deceit and corruption and serves as an excellent cautionary tale about the destruction of a family." Shelley McPhee Haist - Focus Magazine

˜

"WALKER DRAMA REMARKABLY EFFECTIVE. Brilliantly meticulous research by Colley and a superb cast remoulds the almost unbelievable saga into a stunning murder mystery... Colley and director Linda Moore have combined to create one of the most intriguing works in years." (four stars). Geoff Dale - The Sentinel-Review

˜

"A BAD CRIME MAKES A GOOD PLAY. Colley tells the compelling story of Albert Walker... the audience remains rapt, so smoothly does the intensity build. Peter Haworth is superb... This is a cleverly written play. The human condition is not always pretty, but if we make truly honest attempts to understand all of its aspects maybe we can deal with it better. The play provides great entertainment, and some enlightenment." George Hewitt - Listowel Banner

˜

"STOLEN LIVES STEALS THE STAGE AT BLYTH. Stolen Lives is a mind-bending story... The play has an unreal, almost dream-like feeling... Walker's speeches seemed to chill the audience into silence... [there were] many spectacular lines bringing the audience either to laughter or silence... The roles of both Barbara and Albert Walker could not have been easy - transitions from love, to anger to mistrust are complicated and laden with emotion. Haworth and Gillis handle this challenge with strength, making their scenes utterly compelling. Colley's lines flow as if spoken in the real world... Stolen Lives captures both [the facts] and the audience... This is an important play because of the study of human nature it presents." Julia Stecca - Goderich Signal-Star

For copies of the play or stage rights contact:

The Playwrights Guild of Canada
401 Richmond St. W., Suite 350
Toronto ON, M5V 3A8
Tel: (416) 703-0201 Fax: 416) 703-0059
WEB SITE: www.playwrightsguild.ca E-MAIL: mailto:info@playwrightsguild.ca

The Playwrights Guild handles the amateur rights of this play in Canada. For all other rights please contact the author at:

The above email address is a graphic so that SPAM email harvesting programs cannot see it. You must manually type in the email address! Thanks!