PETER COLLEY Playwright-Screenwriter
I'LL BE BACK BEFORE MIDNIGHT!
Italian Productions
2011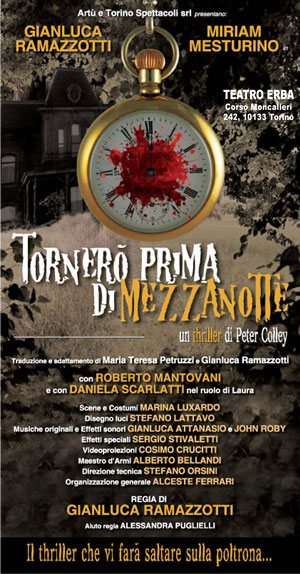 "Tornero Prima Di Mezzanotte" (Italian translation of "I'll Be Back Before Midnight") by Peter Colley, Teatro Erba, Corso Moncalieri 242, 10133 Torino (Turin) Italy. Premiered May 2011.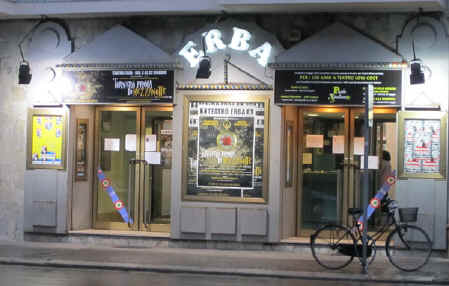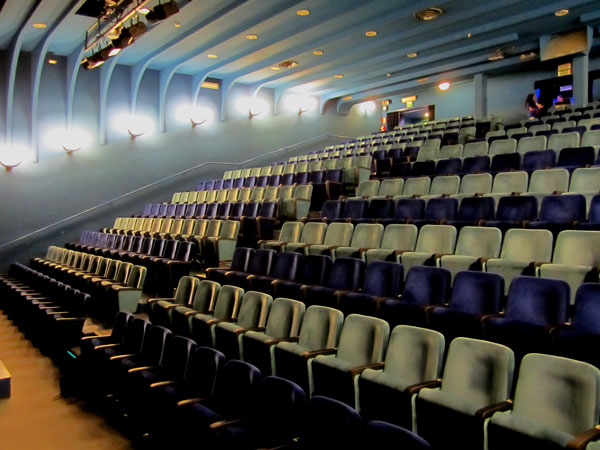 "A wonderful murder-mystery... this widely-admired playwright has created great tension assisted by actors of great skill. Much well-deserved applause!"
Osvaldo Guerrieri - La Stampa (Turin's largest newspaper)
"I'll Be Back Before Midnight" had its Italian premiere in the southern town of Catania on Sicily. It was later produced at the internationally famous Todi Summer Arts Festival. Todi is a scenic historic hilltop town north of Rome with a summer festival of arts, theatre, dance and film. The play was such a success at the Todi Festival that it later transferred to the 700 seat Teatro Ghioni in Rome. It has also been performed in Catania, on the island of Sicily.

The Italian language version has been performed on the radio by the Rome cast in 1999 in Switzerland by Radio Svizzera Italiana.

Produced by Gianluca Ramazzotti

Translated by Sergio Jacquier

Teatro Ghione, Rome

Teatro Ghione, Rome
| | |
| --- | --- |
| | Palazzo Delle Arti, Todi |
| Teatro Comunale | |
For the rights to the non-English-speaking world please
contact the playwright at:

The above email address is a graphic so that SPAM email harvesting programs cannot see it. You must manually type in the email address! Thanks!