| | |
| --- | --- |
| | |
| Home Page | Midnight Main Page |
THE AMERICAN HEARTLAND THEATRE
Kansas City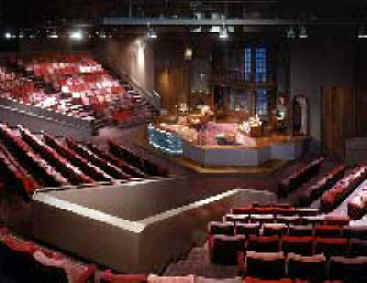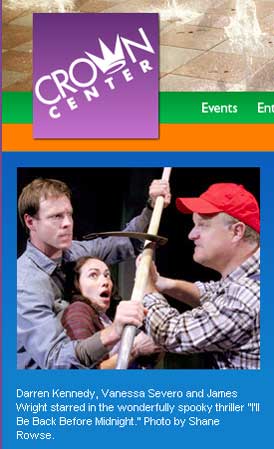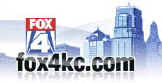 "A wonderfully funny and spooky opener for the 2009/10 season. A first-rate thriller." Fox TV.
Kansas City Metropolis
"Award-winning playwright, Peter Colley's, "I'll Be Back Before Midnight," currently running at the American Heartland Theatre, kept audience members on the edge of their seats and guessing right up until the end. Somewhere between an Agatha Christie mystery and an Alfred Hitchcock thriller, this fast-paced comedy thriller doesn't disappoint. A remote farm house sets the stage where Greg Sanderson is determined his wife, Jan, will recover from a mental breakdown. Jan's hope for recuperation quickly dissipates as their randy, off-color landlord George tells the couple of a murder in the house and of the ghost who still haunts it. Jan is obviously shaken, and husband, Greg, just fuels her emotional frenzy when he tells her of his sister, Laura's impending visit. What follows is a cleverly orchestrated plot packed with fun and fright.
The rustic set design by Del Unruh brought the audience into the living room of the shabby, haunted homestead with open rafters, worn furniture and an out-dated tape deck, used frequently by the actors and which provided a subtle musical richness to the scenes. Shane Rowse's spectacular lighting design - from the eerily lit windows and stairwells to the strikes of lightening to the spooky flashlight accents - reinforced the building drama throughout the production, and in conjunction with Donna Miller's impeccable sound design, put the exclamation point on this first-rate murder mystery.
A veteran of the American Heartland Theatre and an experienced television actor, Darren Kennedy gives an energetic and convincing portrayal of a Greg Sanderson. Kennedy effectively juggles his character's transitions in and out of the personas of concerned, caring husband, dedicated geologist, loving brother and more. Vanessa Severo who plays opposite Kennedy, is no stranger to the Kansas City stage and her performance as Jan Sanderson displayed her talents and experience well. Severo's authentic delivery of a woman in mental and emotional agony was only slightly diminished by her overly-manipulated voice and a couple of lost lines. From her first entrance onto the set, Jan Chapman playing Laura Sanderson is the sister-in-law you love to hate. Her palatable foulness kept the audience cringing and squirming in their seats. Chapman's deliberate use of her body moments, her coyness of voice, and near-perfect timing coalesce into a superb performance. James A. Wright as George is the obvious audience favorite. As the redneck, landlord George, he appears at just the right moments to catalyze his scenes towards increasing doom with expertly timed hilarity and freshness. Wright portrays a knowable and open - even lovable - character whose antics surprise and humor delights.
With its wicked and worrisome twists and turns, "I'll Be Back Before Midnight" is a fearful, yet comedic tale and a good kick-off for AHT's 2009/10 season."
Review by Diane Thompson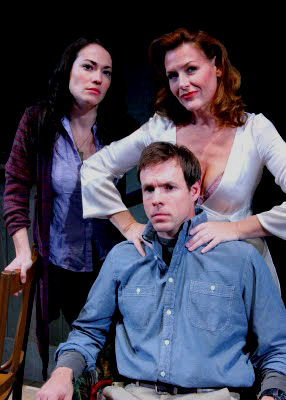 Kansas City Star:
"TALENTED CAST HEIGHTENS THE CHILLS OF IíLL BE BACK BEFORE MIDNIGHT"
"In an old farmhouse, George the neighbor (James Wright) gets creepier while Jan (Vanessa Severo) gets desperate. I approach stage thrillers skeptically, perhaps because I've seen too many that failed to thrill me. The genre is really a thing of the past, but the American Heartland Theatre production of Peter Colley's "I'll Be Back Before Midnight" shows that there's life in the old girl yet, especially if you assemble a superior cast." Review by Jill Toyoshiba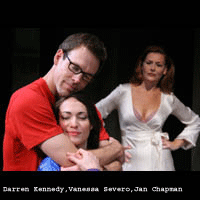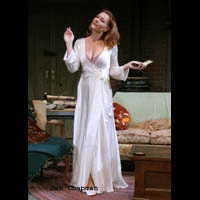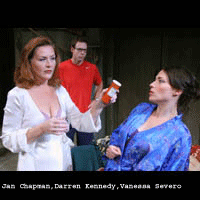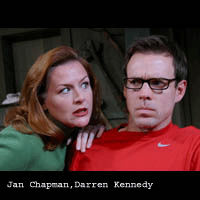 Kansas City Online:
"AN EVENING OF SCARES AND SMILES"

The onset of football season for the hoi polloi brings the start of the theatre season for the lovers of fine arts. Itís an ironic energetic balance. American Heartland Theatre (AHT) brings us its first offering of the year with a thriller, Iíll Be Back Before Midnight, and unlike the Chiefs, AHT has started the season in the win column.

The play by Peter Colley has all the classic elements of the genre: big city folks in unfamiliar rural surroundings; nervous wife; husband whose motives you can never trust; conniving, competing female; and local rustic who gets most of the laughs. Director Ron Schaeffer dials the tension level to high, keeping us on the edges of our seats until the final curtain. The sound design of Donna Miller and the lights of Shane Rowse effectively enhance the eeriness of the script.
It seems Greg, a PhD candidate has rented a refurbished farm property to get away from it all. He wants to make a fresh start with his wife, Jan, who has just returned from a hospital after a nervous breakdown. The problem is, she hates the country. Also on hand is Laura, Gregís sister, and the two of them seem to be hiding something from the past. Appearing at any and every moment, both convenient and inappropriate, is George, the owner of the property. He tells scary and spooky stories that make Jan ready to leave before sheís even unpacked.
Jan is the central character, and is played with barely contained intensity by Vanessa Severo. Weíve seen this young actress carry a show comedically before in Clean House at the Unicorn. This time she shows she can do it dramatically, as well. If her character were played any more high strung, she would have become a caricature, and lost audience sympathy. Never once does Severo step over the line. Her husband Greg, seems to be profoundly unthoughtful in all his choices regarding Jan. Darren Kennedy does a fine job of riding the fence and keeping the audience guessing as to whether his intentions are honorable or not. T here is never any doubt about Laura, played with sexy nastiness by Jan Chapman. She is up to no good, and is almost like the villain in a melodrama. You want to hiss whenever she comes onstage.
The character who is the most fun to watch is George, the farmer that the Greg and Jan have rented the house from. James Wright plays this yokel with absolute relish. Too many times have we seen Wright doing roles where he has to be bland. With George, Wright pulls out the stops, shows us his impeccable comic timing, and gives us an over the top character that the audience canít wait to reappear.
If you like spooky mysteries that also make you laugh, you will love this show."
Review by Greg Boyle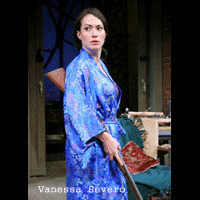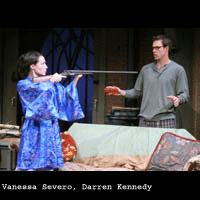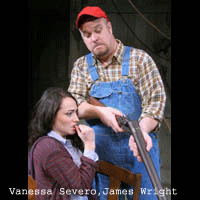 "If you love a ghost story, you wonít want to miss this thrilling, comic production. A compelling script makes Iíll Be Back Before Midnight a surprising evening that is fresh, dark, and horrifyingly twisted. Scream, laugh, scream again and hang on to your seats!" Kansas City Star