PETER COLLEY Playwright-Screenwriter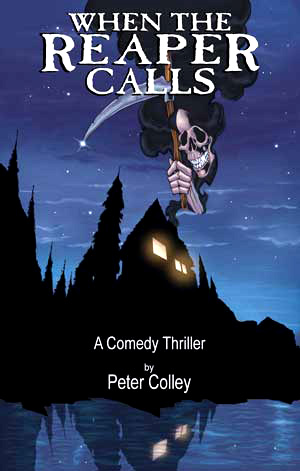 (This poster is free for any theatre group to use when producing the play. For a 300dpi printable version, click here)
2 Males, 3 Females, 1 Set

Published by Samuel French Ltd., London, England
(NOTE: The Samuel French (London) version is not available in the USA or Canada.
For Canada contact the Playwrights Guild of Canada [address below], for the USA please contact the author.)
Now available in an Italian translation "Quando La Morte Chiama" by Pino Tierno.
THEATRE COMPANIES: FOR A FREE PERUSAL COPY OF THIS PLAY EMAIL THE AUTHOR AT:

The above email address is a graphic so that SPAM email harvesting programs cannot see it.
You must manually type in the email address! Thanks!
THE STORY: Victor and Harlan are two young philosophy professors who have been friends, rivals and pranksters since their college days. But now Harlan has become a Stoic who has adopted a strict unemotional regimen in preparation for the afterlife, while Victor has turned into a wild hedonist who believes that "when you're dead, you're dead" and intends to squeeze every drop of pleasure from each fleeting moment. While they are vacationing with their long-suffering wives at a remote cottage on the coast of British Columbia, Victor sets up a trick to prove to Harlan the falseness of his philosophy, but the trick goes murderously wrong and all their lives are changed forever...
PROFESSIONAL PRODUCTION HISTORY: WHEN THE REAPER CALLS has been produced in 9 countries. It premiered at the Gryphon Theatre in Ontario, Canada (a 700-seat Equity theatre), and was later produced at the Victoria Theatre, Ontario. In 1998 a revised version premiered at the Upper Canada Playhouse, and The Abaiq Theatre in Saudi Arabia and theatres from Alberta to Nova Scotia. In 1999 it was produced at the Blyth Festival (where the entire run sold out), and the Port Carling Summer Theatre. In 2000 the play was remounted at The Blyth Festival to accommodate the audience who could not see the sold out run in 1999. In 2001 The west coast premiere was produced by a co-production at the Western Canada Theatre Company in Kamloops and the Gateway Theatre in Vancouver, British Columbia. In 2002 the play was produced at several theatres including the Showboat Theatre and the Collingwood Summer Theatre in Ontario. In 2003 the U.S. premiere took place at the Fort Gordon Entertainment Centre and in 2004 the English Theatre of Hamburg presented the German premiere - a long-running hit that grossed over $100,000.00. There have been numerous other productions and in 2006 it was presented at the Sudbury Theatre Centre and was published in London by Samuel French Ltd. Also in 2006 the play won 4 awards at the Western Ontario Drama League's annual festival in Canada. There were two productions in New Zealand in 2009 (The Dolphin, Aukland, and The Whangerie) as well as the Dundee Playhouse and The Abbey Theatre (2010) in Scotland. The Whangerie production won 4 2010 New Zealand NAPTA awards, including "Best Comedy". In 2011 it was presented at The Lighthouse Theatre, The Meaford Opera House and the City Playhouse in Canada as well as theatres in several states in the US, including the Chicago area. In 2012 there have been productions in Rome, Italy (in Italian), Shanghai, China (in Mandarin at the Shanghai Modern Theater - Xinguang Arts Center), and in Cape Town, South Africa as well as the UK, US and Canada. There is a new Polish translation in 2015.

It is a very funny, yet suspenseful play, set in a summer cottage by a lake, and full of humour, thrills and supernatural goings-on. It has a universal theme which audiences have found very endearing along with a deeply satisfying and uplifting ending. It is the perfect play for Halloween or a summer's evening.
SHORT PITCH: When The Reaper Calls is a comic thriller about two young academics who are rivals over the question: "is there life after death" and how that affects the way you should lead your life. As they vacation together with their long-suffering wives their rivalry results in infidelity, murder, and lots of laughs.
RECENT REVIEWS:
"This season's mystery comedy, When the Reaper Calls, has been a hit with our audiences! Some are even calling it "the BEST" show they've seen at The Lighthouse Festival Theatre to date! A sensational play." The Lighthouse Festival Theatre (Equity theatre 2011)
"Peter Colley likes to make us laugh, even at death. When the Reaper Calls is a prime example. One minute you're on the edge of your seat, the next you're shaking with laughter." Hamilton Spectator 2011
2013 - When The Reaper Calls wins a BRAVO AWARD in Canada.
From the UK from AS Magazine:




"This is new addition to the works of Canadian playwright whose earlier play I'll Be Back Before Midnight has won him great popularity on both sides of the Atlantic. It is refreshing to find a work where the playwright lives up to his promise to bring that amalgam of mystery and often hysterical comedy to fulfill the promise of the play's title. Those who have had experience of Colley's earlier play will soon realise that the author is up to his usual tricks and, yet again, has concocted a plot that is guaranteed to keep audiences laughing and mystified on the edge of their seats." Charles Vance
2008 from the Columbia Tribune:
"Play pits intellect against emotion... a cross between Agatha Christie, "The Odd Couple" with just a dash of "It's A Wonderful Life"... The meaning of the script shines through... "
"A murder mystery with many twists and turns and some very comedic scenes even in the depths of drama. One is constantly wondering what is coming next, and to say too much about the plot would give the game away and lose the pleasure for all who see the show." Cape Town, South Africa
2012 and 2015 IN SHANGHAI, CHINA (in Mandarin - translation by Professor Fan Yisong)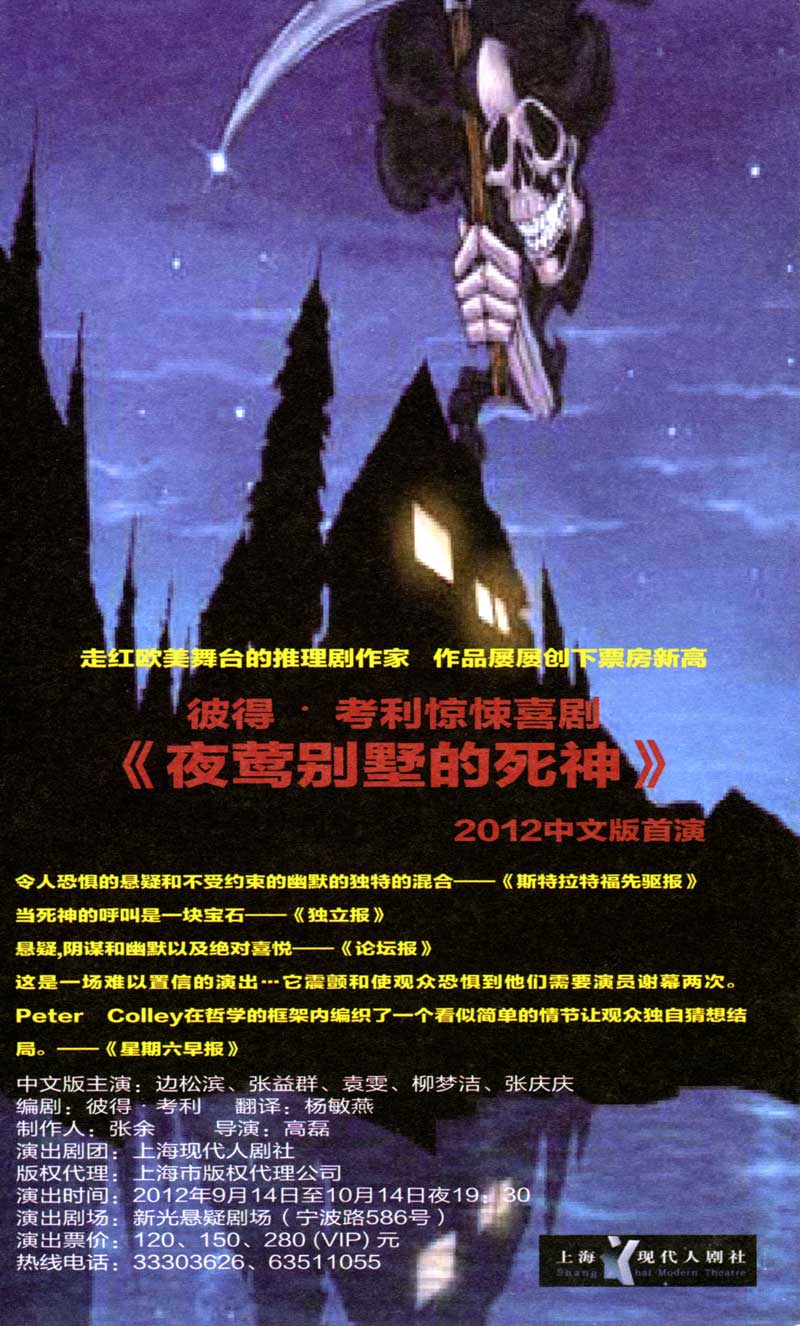 Also in 2012 - in Rome. Italy. Italian translation "Quando La Morte Chiama" by Pino Tierno.
From The Tribune
"Suspense, intrigue and humour; sheer delight"

"When the Reaper Calls it's definitely time to get your tickets to an evening of devilish hilarity, intellectual philosophizing and entertaining thrills. Coming out of the theatre into streets shrouded in mist seemed the inevitable finale to an evening full of twists, turns, scary pranks, ghosts, murder and mayhem.
A chilling mix of suspense and humour this is one of the best plays the theatre has done for quite a while. It is a must-see for anyone who appreciates a hearty laugh spiced with intrigue and deception... more laughter than I have heard in the theatre for a long time.
Peter Colley has wrapped authentic philosophical dialogue in a riot of edge-of-the-seat happenings, each more unexpected and more hilarious than the last. A master of language and plot he pulls us along, bewitched by the crazy turn of events until the final high-five ending. This beautifully sculpted script will keep you guessing and laughing to the end, and beyond. This is an absolute delight. Highly recommended - four out of four stars."

From THE NIAGARA DOWNTOWNER

"Wittily written by Peter Colley, this intelligent comedy keeps you laughing at yourself as well as the characters. Comparisons between playwrights never is fair, but, in rare instances, unavoidable and, in this case, complimentary. Colley's wry humour and controlled antics call to mind Noel Coward, that tireless observer of human foible. The women from Coward's Blithe Spirit, well done at The Showboat last season, would rollick in the aisles over Reaper in this theatre. The plot is simple, as opposed to simplistic, and thought-provoking outside academia: can a stoical pacifist be provoked to violence? If so, what consequences are reaped by the provocateur? You'll find out in this delicious, expertly staged, piece."

From: PULSE NIAGARA

"There are lots of elements that made When the Reaper Calls, a truly brilliant play. But what stood out most for me were the refreshing and surprising plot twists of this play. The script itself deserves a great deal of the credit for making this comedy thriller so entertaining. That's right -- a comedy thriller. Rare is the play that combines these genres successfully, but When The Reaper Calls, is indeed equally as gripping as it is hilarious.

(Act Two) is where the play turns brilliant. Where most summer theatre offerings would have left the story there - the interminably un-guessable When The Reaper Calls is just beginning to play head games with the audience. Just when all transpires exactly as you figured it would, the play is stood on its head, and without spoiling the denouement - which is truly the best part of this play - let's just say that nothing is quite as it seemed. Revelations tumble out until the final moment of the final act. You won't want to miss one moment of this play.

... wonderful the storytelling... one of the most entertaining plays in the Niagara Region this summer. I can't imagine that this play will be bested."




REVIEWS:

"This is a fabulous show... it thrilled and chilled the audience to the point that they demanded two curtain calls... Peter Colley has woven a deceptively simple plot into a philosophical framework that leaves the audience guessing until the very end... a sheer delight... hilarious... you won't want to miss this one... superb!"'

Saturday Morning Post

"This is a great play... very entertaining... the two killer professors are wonderful... I love the language in this play... please go and see it!"

Brighton Weekend

"A CERTIFIABLE CROWD-PLEASER"
"Brimming with chilling surprises, unexpected reversals and belly laughs... Colley has a lot of fun playing reason and rationality off against humankind's darker, more primitive instincts which civilization has failed to suppress. Yet Reaper is a certifiable crowd-pleaser from the get-go."

Kitchener-Waterloo Record

"REAPER CALLS AUDIENCE TO HILARIOUS HIT! A WELL-WRITTEN, SPIRITED COMEDY!"
"As you leave the Upper Canada Playhouse after seeing When The Reaper Calls, between the laughter you will most likely be remarking about how well the play was written. Reaper mixes fun and pranks with a bit of psychology and philosophy, and comes up with a perfect combination. Lust, infidelity, murder, ghosts and the supernatural all play a part in this enjoyable production... (The character of) Officer McGuire is hilarious and almost steals the show."

The Winchester Press

"REAPER" A WINNER AT UPPER CANADA PLAYHOUSE! A MUST-SEE PERFORMANCE!"
"This play is a must-see for everyone who enjoys live theatre... it is filled to the brim with suspense, intrigue and humour. There is also romance and the supernatural in this hilarious fast-moving farce that also has a dash of mystery in a comic thriller. The mix of the comedy, thrills and chills is just right to give everyone in the audience what they want to see... This is a deliciously comic murder mystery that is also a love story... a great way to spend an evening... don't miss it!"

The Chieftain

"REAPER A MEMORABLE NIGHT AT THE THEATRE"
"It's a story with twists and turns, friend betraying friend, spouse deceiving spouse, and dozens of laughs packed into the two-hour show. This play has everything for lovers of thrillers and an unexpected ending... great laughs and an entertaining evening. Billed as a comedy/thriller, Reaper lives up to every expectation of a memorable night at the theatre... Wonderful and distinct personalities are brought vividly to life and draw the audience into the story... So completely captivating are the five actors, that from the opening chuckle to the final hug never is a thought given that these could be anything but real people dealing with real issues... The mood moves from hilarious to poignant to downright startling, and it flows beautifully with perfect timing. Reaper makes the audience laugh, yet still think. Not only is the mind occupied with what is going to turn up next, but also with the deeply philosophical conversations by Harlan and Victor. And the end is the perfect finish to an entirely enjoyable evening."

The Citizen

"A UNIQUE BLEND OF CHILLING SUSPENSE AND RIOTOUS HUMOUR"
"Peter Colley displays his wonderful ability to combine taut mystery with ribald comedy in a unique blend of chilling suspense and riotous humour... Director Eric Coates keeps the action flowing and the suspense building, incorporating a number of subtle, yet perfectly realized touches to give the piece a finely observed third dimension... For some peculiar reason, theatre in these balmy nights of summer seems particularly conducive to mysterious goings-on. Perhaps it has something to do with far-off sounds travelling over soft moonlit fields, or the limitless scope of the imagination when we can stroll forever under a starry night. For whatever reason, the possibilities give our hearts pause as we contemplate this well-wrought package of murder and mayhem."

The Stratford Beacon-Herald

"WHEN THE REAPER CALLS IS A GEM"
"It's too bad the Blyth Festival is staging When The Reaper Calls in its smaller 100 seat theatre -- not because it's so bad, but because it's so darned good. Word-of-mouth alone is bound to send the ticket demand sky-high for this comedy-thriller gem... this play could have filled the main stage for half of Blyth's silver anniversary season. "Reaper" is an even better play than Peter Colley's world-wide hit I'll Be Back Before Midnight. It's a top-notch comedy-thriller with razor-sharp dialogue. Go, go, go!"

The Independent

"REAPER GETS STANDING OVATION"
"An appreciative audience gave When The Reaper Calls a much-deserved standing ovation on its opening night. The play has so many twists and turns that, combined with its humorous edge, it kept the audience steadily in its grasp. This fast-paced comedy romps through philosophical arguments about life, love, truth, lies, and life beyond the grave. Hilarious performances... audiences will want to flock to the theatre to catch this play."

Clinton Record

"REAPER BOTH SPOOKY AND FUNNY"
"Murder, intrigue, philosophy, comedy: When The Reaper Calls is sure to keep you on the edge of your seat or rolling in the aisles. Colley has written a comic hit... the characters are believable, witty, yet also vulnerable to real-life issues. It's an imaginative, fun ride, full of twists and turns. It's a must-see."

Focus Magazine

"A CASCADE OF SUSPENSE, HUMOUR AND THE SUPERNATURAL"
An uplifting piece that has it all... an uneasy cascade of suspense, humour, and the supernatural... flawless timing that kept the play moving and added intrigue to the suspense... This is truly a fun evening."

Standard-Freeholder

"REAPER FULL OF TWISTS, LAUGHS AND SCARY MOMENTS"
"It's lucky that food and drinks are not allowed in the theatre during When The Reaper Calls because my drink would have been all over the person next to me. This comedy/suspense kept me on the edge of my seat... this is a script for philosophers, but the unexpected turn of events surprises everyone. I jumped in my seat more than a few times. The show is a good laugh... Officer McGuire is hilarious... an all-around entertaining evening out and a perfect spook for the season."

Richmond News

"GHOULISHLY FUNNY THEATRE"
"Fun, scary and cultural... This wacky comedy thriller is sure to have you clutching your gut with laughter or nipping your nails in terror."

Canadian Arts & Culture Forum

"I read this script and loved it . We just finished a three week run of the show and it turned out to be a great experience for the staff, cast and audience. Large and enthusiastic houses -- and not one person claimed to have figured out the ending in advance. That's a first! "

Artistic Director, Fort Gordon Entertainment Centre

"

This is a very well written play. It is one of the best plays I have ever come across and has some brilliant characters."

Director, Moira Tunstall (Great Britain)

"A great play which sold out in our theatre."

River City Theatre, Missouri 2008

"Reaper offers surprises, laughs, truth"
"The play offers truths and surprises along with laughs. In this metaphysical whodunit, the question is whether anybody dunit. The actors cook up a fine love-hate stew between philosophical opposites. The ensemble keeps the play ticking along smartly and knows where the laughs are. Audiences will find them throughout." Read entire review: click here

Sam Blackwell, Southeast Missourian

"I studied philosophy at University so the play is an absolute gift."

Actor playing Victor UK production 2010



| | |
| --- | --- |
| Dolphin Theatre, Auckland, New Zealand 2009 | |
"Peter Colley has created a just-right generator of gasps and guffaws with this tale about two nattering professors, who turn a holiday in the Canadian wilderness into something more than just an argument about life and death." Columbia Tribune
CLICK ON REVIEWS BELOW TO SEE LARGER VERSION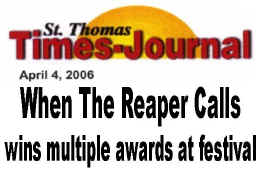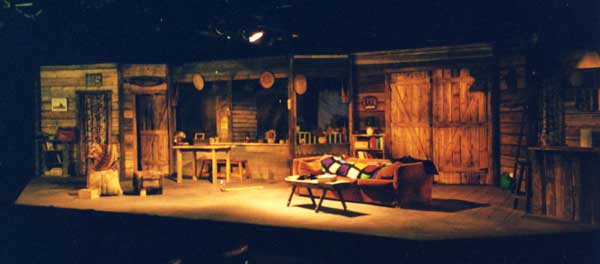 Set from Upper Canada Playhouse production
Click on pictures to see larger version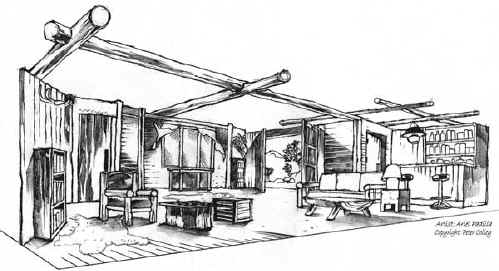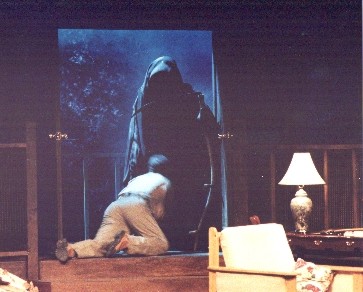 David Thomson and Kim Sean Cousin, Photos by K. Clarke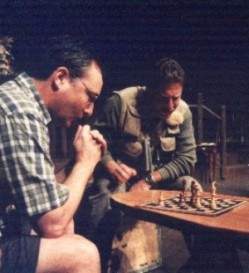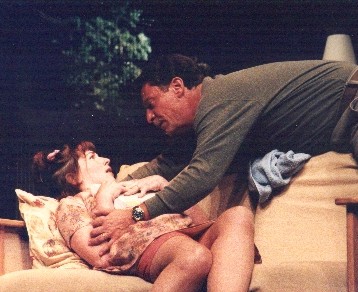 David Thomson and Howard Siegel, Photo by K. Clarke
From Western Canada Theatre Company (Kamloops) / Gateway Theatre (Vancouver) Co-Production
For more info on this production CLICK HERE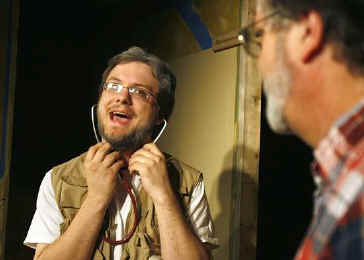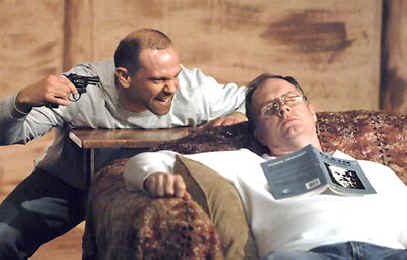 River City Theatre (Left) Columbia Entertainment (Right)

Fort Gordon Theatre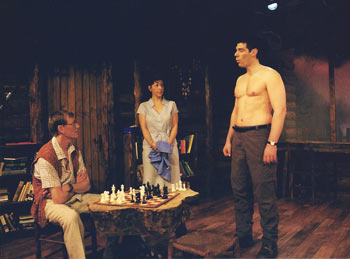 From the ETH Theatre, Hamburg, Germany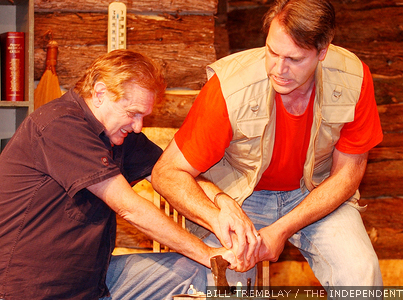 Brighton Theatre, 2009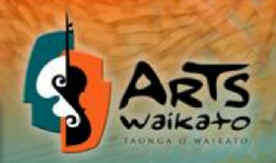 Te Kuiti Theatre New Zealand, 2010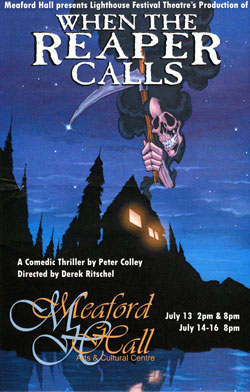 The Lighthouse Theatre, Meaford Opera House, City Playhouse, Vaughan Tour - 2011.
Script Available From:
The Playwrights Guild of Canada
401 Richmond St. W., Suite 350
Toronto ON, M5V 3A8
Tel: (416) 703-0201 Fax: 416) 703-0059
WEB SITE: www.playwrightsguild.ca E-MAIL: mailto:info@playwrightsguild.ca

The Playwrights Guild handles the amateur rights of this play in Canada. For all other rights please contact the author at
The above email address is a graphic so that SPAM email harvesting programs cannot see it. You must manually type in the email address! Thanks!


British version of this script available from:
Samuel French Ltd.
24 - 32 Stephenson Way London NW1 2HD Tel: (44207) 387-9373
https://www.samuelfrench.co.uk/
Samuel French (London) handles the amateur and professional rights of this play in the UK, Australia, New Zealand, and South Africa, and some other English-speaking countries, but NOT Canada or the USA. For information on all rights contact the author at: