| | |
| --- | --- |
| | |
| Peter Colley Home Page | Cagney Main Page |
CAGNEY IN NEW YORK
(To see reviews, pictures and awards from The Florida Stage, The Riverside Theatre,
Drayton Theatre, The Huron Country Playhouse etc CLICK HERE.)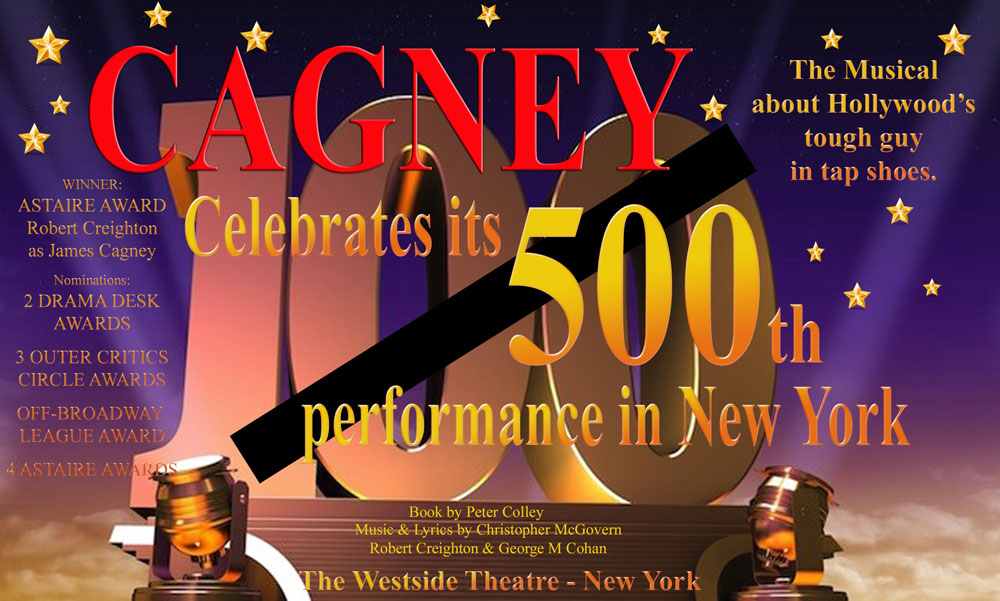 2015
THE YORK THEATRE, NEW YORK
Sold out 7-week run.
2016
Transfer to:
THE WESTSIDE THEATRE NEW YORK
407 West 43rd Street, New York, NY 10036

Opened March 15 2016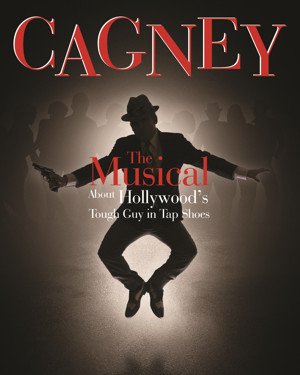 OVER 500 PERFORMANCES IN NEW YORK

DRAMA DESK AWARDS NOMINATIONS
Best Actor on a Musical (Broadway or Off-Broadway)
Best Choreographer (Broadway or Off-Broadway)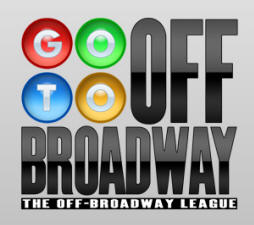 OFF-BROADWAY ALLIANCE AWARDS NOMINATIONS
BEST NEW MUSICAL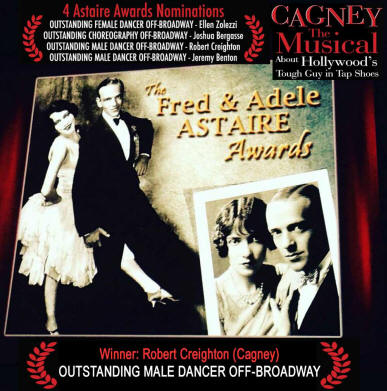 ASTAIRE AWARDS
WINNER: ROBERT CREIGHTON
Nominations:
Outstanding Female Dancer in an Off-Broadway Show: Ellen Zolezzi
Outstanding Male Dancer in an Off-Broadway Show: Jeremy Benton and
Robert Creighton
Outstanding Choreography in an Off-Broadway Show: Joshua Bergasse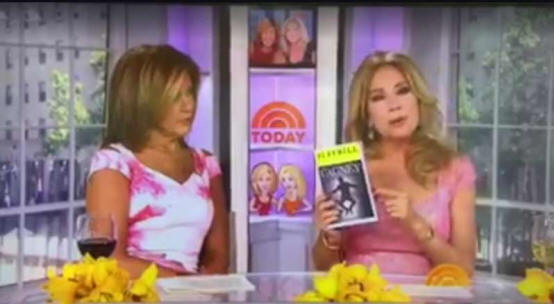 And a big thanks to Kathy Lee Gifford for a fabulous shout-out on the Today Show.
PREVIOUS AWARDS:
THEATRE COMMUNICATIONS GROUP:
Winner: New American Play Award (original play)
Edgerton Foundation
FLORIDA CARBONELL AWARD:
Winner: BEST NEW WORK (Play or Musical)

SEE THE VIDEO: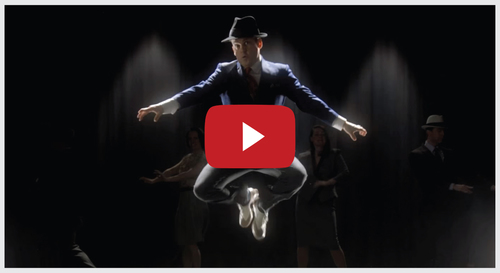 FROM 2015 at The York Theatre: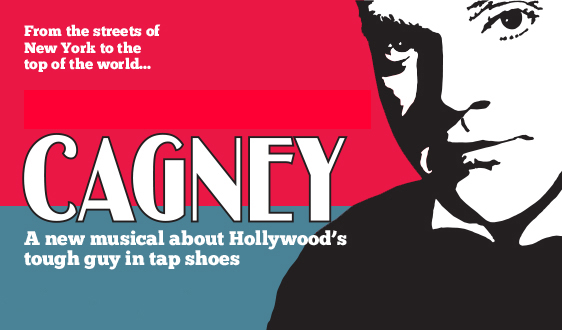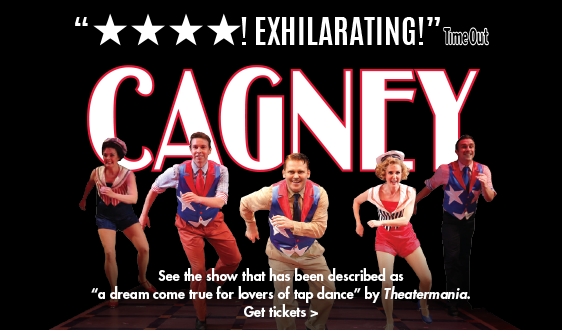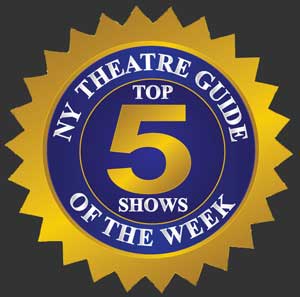 2015 Limited Engagement at The York Theatre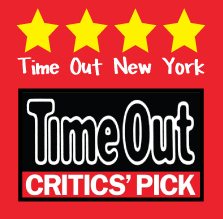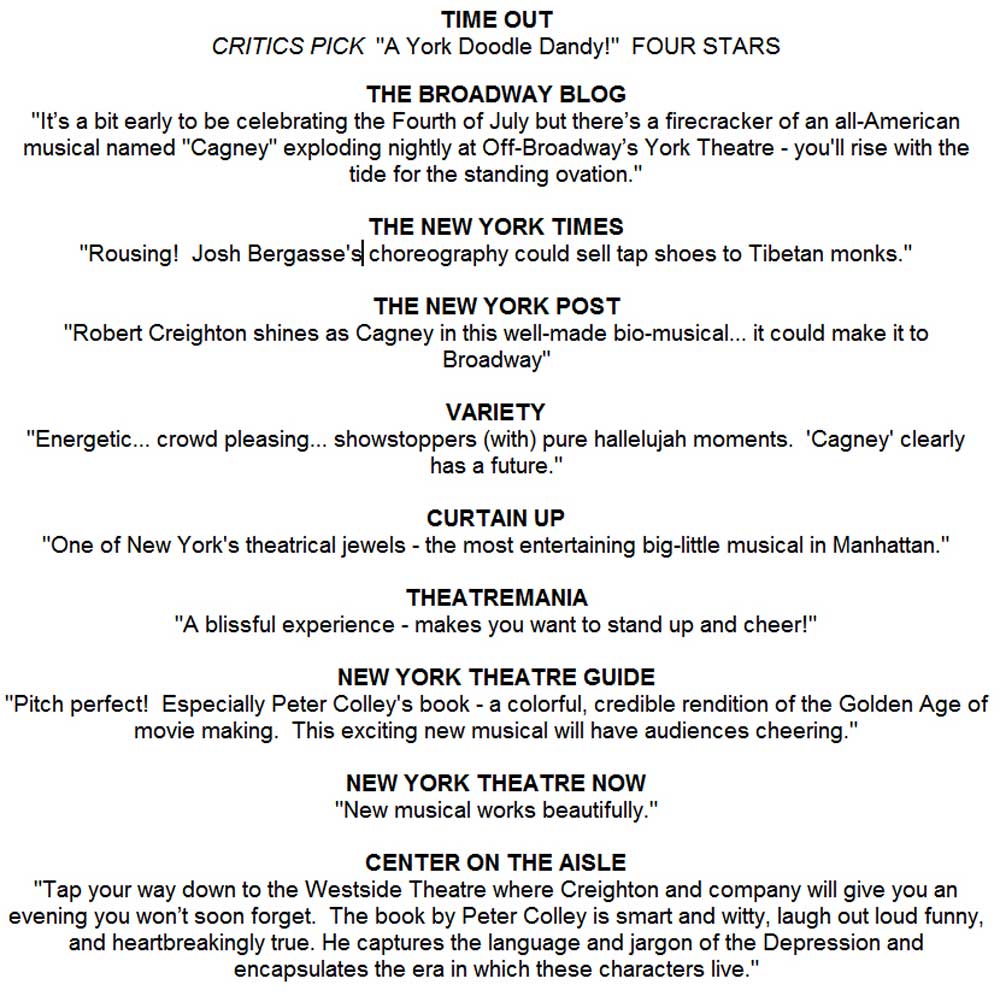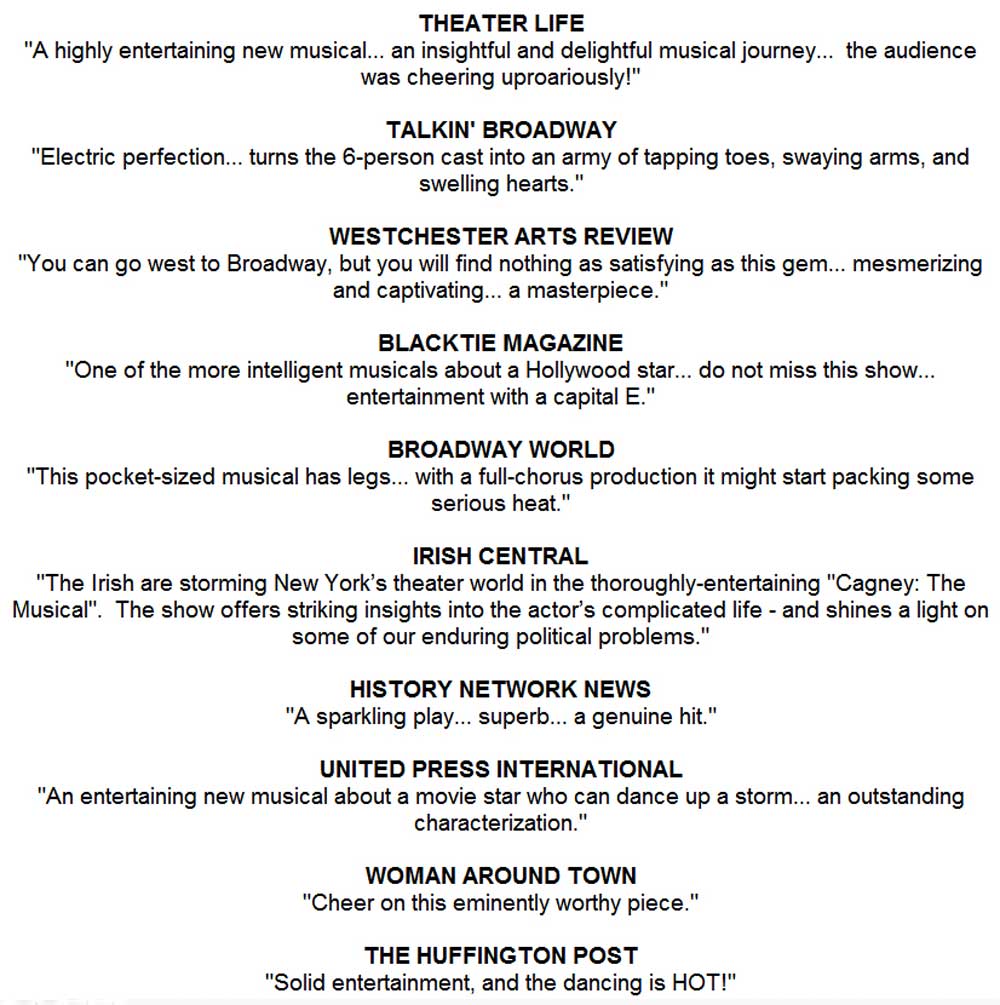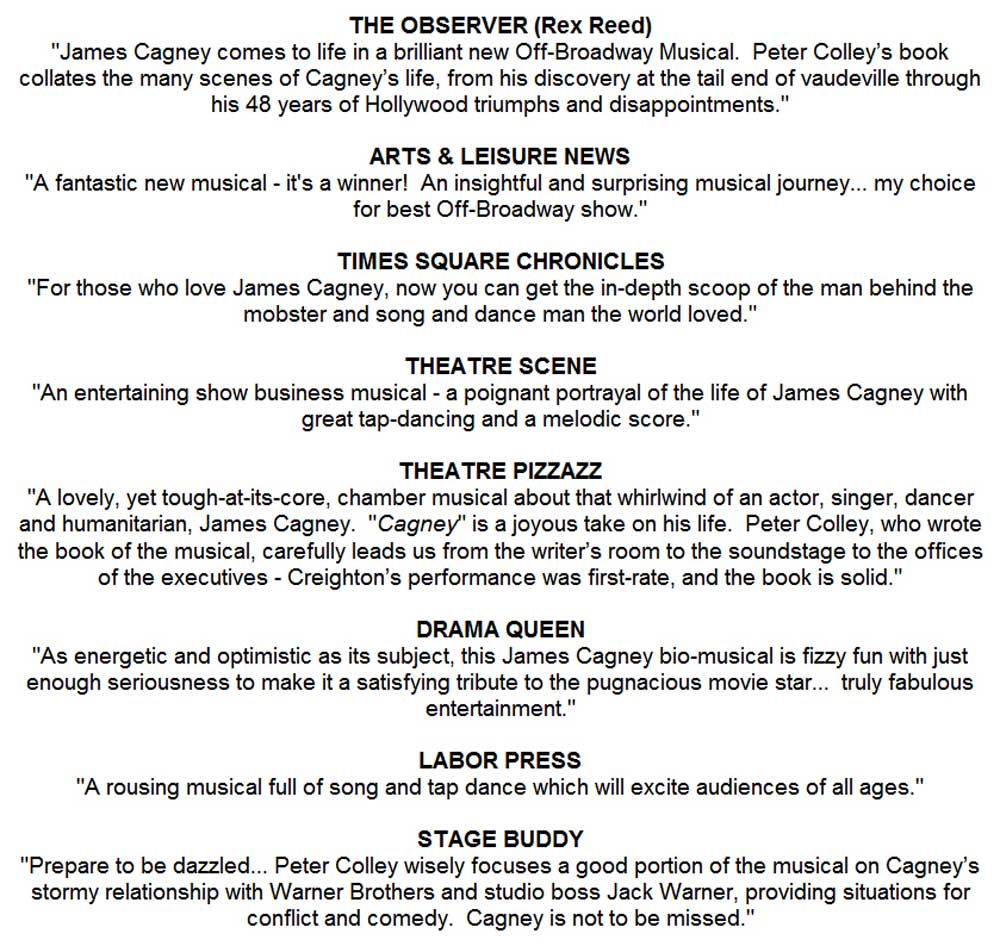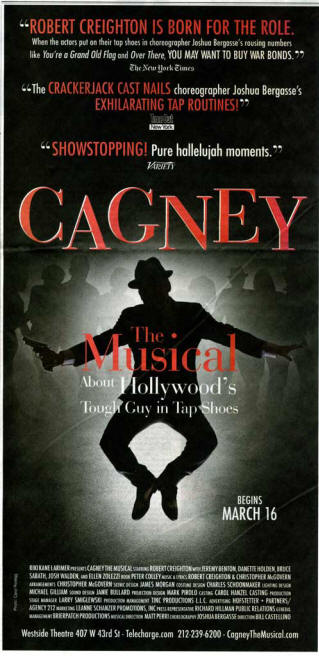 Ad in the New York Times 2016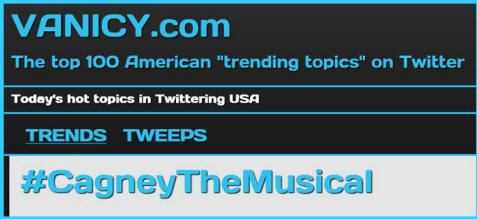 FROM THE YORK THEATRE PRODUCTION 2015:
NEW YORK POST
"CAGNEY COULD MAKE IT TO BROADWAY"
Robert Creighton shines in this well-made bio-musical... If "Chaplin" could make it to Broadway, so could "Cagney". Both musicals profile Hollywood icons, but while "Chaplin" was clunky and bloated, the light-footed "Cagney" at least makes you curious about its subject. Choreographer Joshua Bergasse ("On the Town" -Tony Nomination - "Gigi") does the honors here, and it's fun to imagine what a large Broadway ensemble could do with those tap numbers, rather than a handful of hardworking actors sweating up a storm to fill the stage. (The potential is there!) The show makes you want to revisit the many sides of James Cagney.

TIME OUT
4 Stars - CRITICS PICK
"CAGNEY A YORK DOODLE DANDY"
The crackerjack six-person cast nails choreographer Joshua Bergasse's exhilarating tap routines while committing to the emotional core of the story. That makes "Cagney" a York doodle dandy.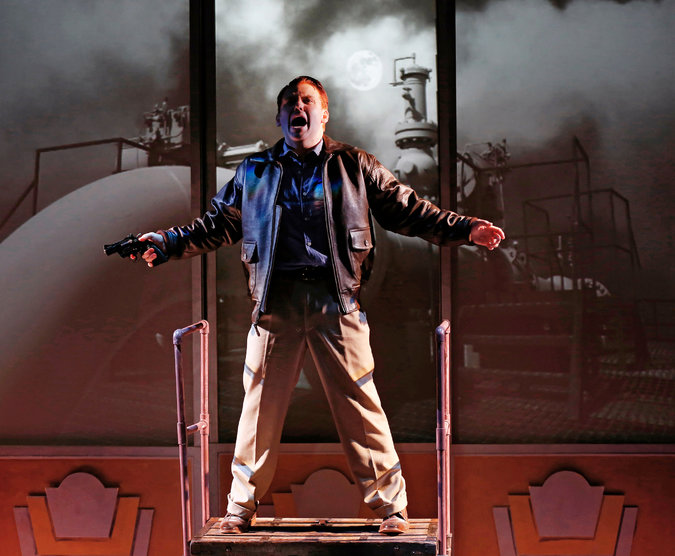 NEW YORK TIMES
"'CAGNEY, A TRIBUTE TO THE TOUGH GUY WHO TAPPED"
Normally, if you're doing a musical about James Cagney, casting is a challenge. Not so for the York Theater Company's "Cagney." Robert Creighton, who wrote the music and lyrics (with Christopher McGovern), just cast himself. Mr. Creighton does bear a physical resemblance to Cagney, who was 5-foot-5 and resembled a fireplug with a Lower East Side accent. And he does a fine job recreating Cagney's gangster-vicious movie scenes. But it's only when he breaks into dance that he seems born for the role. Joshua Bergasse's choreography, especially in rousing numbers like "You're a Grand Old Flag" and "Over There," could sell tap shoes to Tibetan monks.

Despite differing accounts of whose idea it was for Cagney's character to shove a grapefruit in his co-star Mae Clarke's face in "The Public Enemy" (1931), this musical - the book is by Peter Colley - presents it strictly as Cagney's on-the-spot inspiration. Cagney is also depicted as a noble advocate for the working man, falsely accused of Communist ties by the Dies Committee (an early version of the House Un-American Activities Committee) and mentally tortured by Jack Warner (Bruce Sabath), the tyrannical Warner Bros. studio chief. Mr. Sabath's performance actually makes Warner the show's most interesting character - and maybe the real tough guy.

The intimate York Theater lends a cabaret feel to the production. Of the original music, "Black and White," the opening number, which is reprised in Act II, is the standout. But when the actors put on their tap shoes, you may want to buy war bonds.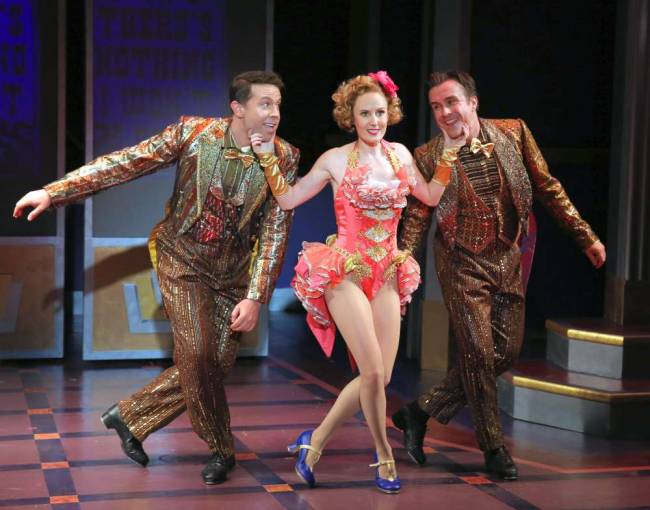 THE BROADWAY BLOG
"A FIRECRACKER OF AN ALL-AMERICAN MUSICAL"
It's a bit early to be celebrating the Fourth of July but there's a firecracker of an all-American musical named "Cagney" exploding nightly at Off-Broadway's York Theatre Company in honor of its eponymous hero. Creighton gives a tour de force performance in this high-energy show... especially its abundance of awesome tap dancing, outstandingly choreographed by Joshua Bergasse ("Gigi", "On the Town"), that you'll rise with the tide for the standing ovation when it's over.

NY THEATRE GUIDE
"CAGNEY TAPS INTO THE HEART OF A LEGEND"
"ONE OF THE TOP FIVE SHOWS OF THE WEEK IN NEW YORK"
Humphrey Bogart, when asked about his acting peers, once said, "Spencer Tracy is probably our finest actor. But Jimmy Cagney is the greatest personality we've ever seen on screen." Far be it for me to argue with Bogie, so I was more than a little anxious about seeing The York Theatre Company's production of the musical "Cagney". But the (second) scene - a flash-forward of Cagney backstage with his mentor/nemesis Jack Warner before the star's SAG Lifetime Achievement Award - put my fears to rest. The two actors - Robert Creighton as Cagney and Bruce Sabath as Warner - were so pitch perfect in their portrayals that I knew only good things were ahead.

Mr. Sabath's turn as the movie mogul is one of those very good things. While he may not have been THE Most Hated Producer in Hollywood, had that title been an Olympic event, Jack Warner certainly would've medalled. In Sabath's deft hands, Warner is a whirling dervish of crass commercialism, touched with a genius for knowing what works on film. Cagney said of himself, "Once a song and dance man, always a song and dance man." For those who may not know, that's how he started his career and that's how he always thought of himself, despite playing the many mobsters that made him a star. And that's at the heart of this musical. Cagney taps into the heart of a legend, literally.

The original material is solid, especially Peter Colley's book... this is a colorful, credible rendition of the Golden Age of movie making. As the great actor once said of his craft, "Learn your lines, find your mark, look 'em in the eye and tell 'em the truth." Mr. Creighton does this admirably and in doing so, honors James Cagney, the man, the star and "the greatest personality we've ever seen."

NY THEATRE GUIDE (2)
"WILL HAVE THE AUDIENCES CHEERING"
"Cagney" is a surprising musical journey, a brand new original score filled with showstopping song-and-dance numbers is augmented by George M. Cohan songs. James Cagney could do it all – sing, dance, play the bad guy, the good guy, the patriot, the gangster. Broadway's Robert Creighton stars, and leads a cast of six in this exciting new musical. "Cagney" will have audiences cheering.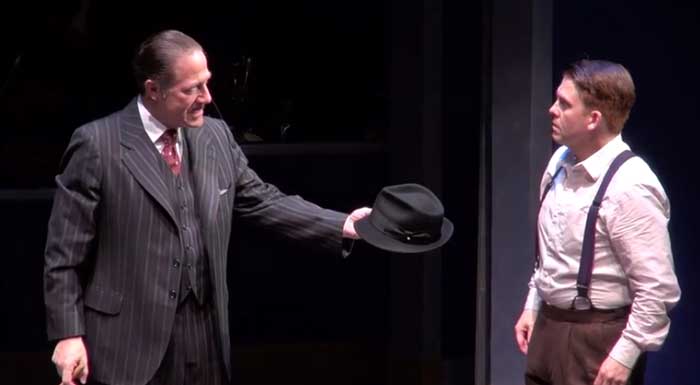 CITITOUR
While Creighton's natural resemblance to Cagney is unmistakable, it is his multi-layered performance and his extraordinary tap-dancing skills, showcased again and again in Tony Award nominee Joshua Bergasse's crowd-pleasing choreography, that help raise this show to a higher level.

The (show) spans his career on the vaudeville circuit in the 1920s and his work in Hollywood from the 1930s to the 1950s. Some of his biggest roles, including those in "Public Enemy" and "White Heat," are cleverly re-created on stage. And much of the show focuses on his love-hate relationship with egotistical studio head Jack Warner (brilliantly embodied by Bruce Sabath). Besides his battles with Warner, Colley's script also touches on, albeit more lightly, Cagney's relationship with loving wife Willie (an appealing Ellen Zolezzi), good pal Bob Hope (a charming Jeremy Benton), his devoted mother (Danette Holden, impressive in a variety of roles) and brother Bill (Josh Walden, who stops the show during a USO-section devoted to the music of Cohan while performing "Harrigan").

In addition to the songs by Creighton and Cohan, the tuneful score contains several numbers by the talented Christopher McGovern, including the show's hummable opener "Black and White," the soliloquy-like "Mean," and the touching "Some Other Guy,". Sabath also makes a meal out of McGovern's songs for Warner, including "Warner at Work" and "A Work of Genius." Still, all "Cagney" really needs to entertain is Robert Creighton and a pair of tap shoes.

CURTAIN UP
"ONE OF NEW YORK'S THEATRICAL JEWELS - THE MOST ENTERTAINING BIG-LITTLE MUSICAL IN MANHATTAN."
Peter Colley's book for the show spans more than half a century and comes with a large cast of characters. Though the York Theater's stage can't accommodate a Broadway-sized musical cast, that's no problem here - "Cagney" works with just five actors besides Creighton. Each cast member bring one key character to vivid life and deftly takes on a host of others as needed.

The framework for the story is the 1974 ceremony at which Cagney received the Lifetime Achievement Award for his work. I'm not sure whether Jack Warner actually was the presenter, but it effectively works as a reunion for the two men who had a long and fractious relationship at the Warner movie studios - as well as a set-up to flashback through Cagney's trajectory from the streets of New York to super stardom. As Creighton easily evokes images of Cagney, so Bruce Sabath is on the mark as the tough but astute Hollywood mogul. Sabath, besides nailing Warner's persona, also shines in some of his other roles.

Ellen Zolezzi is delightful as Willie, the vaudeville partner who became his wife; Danette Holden also shines as his mother. Between them they segue into the likes of Bette Davis, Greta Garbo, Shirley Temple and Warner's harried secretary. Jeremy Benton is a terrific hoofer and the Cagney/Hope tap duet from "The Seven Little Foys" is a second-act show stopper.

This isn't a warts and all, factually complete bio-musical as much as an homage to the legendary "tough guy in tap shoes." But it's an enjoyable song and dance show nevertheless. All the highlights of Cagney's colorful career are there - including the famous "Public Enemy" scene in which he went off script to smash a grapefruit in his co-star's face. Joshua Bergasse's choreography keeps not only the tough guy's tap shoes but everyone's feet in eye-pleasing motion. The show ends as it begins - back at the awards event, with Warner presenting and Cagney accepting the Lifetime Achievement award, followed by a rip-roaring production number for the hard-working ensemble. The York Theater Company with its focus on new musicals has developed a loyal following over the years, if you've missed shows there, buying a ticket for "Cagney" is your chance to discover one of New York's theatrical jewels.

THE HUFFINGTON POST
Cagney, at the York Theatre, provides much solid entertainment, and the dancing is HOT!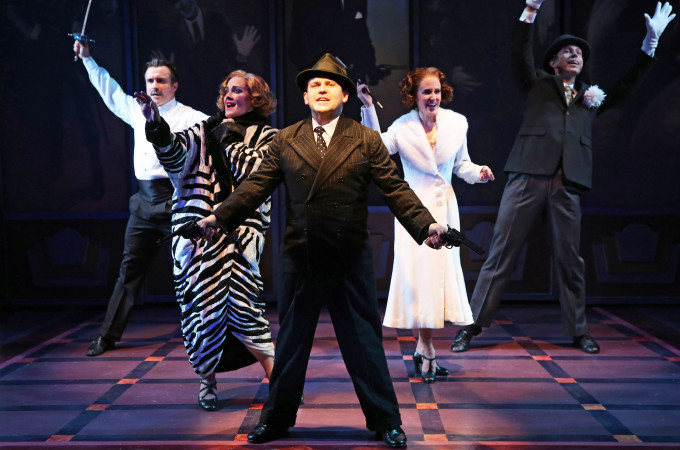 LIFE UPON THE SACRED STAGE
"IT'S A JOY"
Billed as "a new musical about Hollywood's tough guy in tap shoes," Cagney, which opened last night at the York Theatre Company, is another refreshing show from a company that specializes in producing uplifting new musicals. Thanks to this musical, with its book by playwright Peter Colley, I now know a good deal about Cagney's biography.

All of the actors are good tappers, but Benton really shines, and he and Creighton bring down the house together dancing to "Crazy 'Bout You." Joshua Bergasse does a great job choreographing on that tiny stage. (He is currently represented on Broadway as choreographer for "On the Town", for which he received a Tony nomination). All sing well, too, especially Zolezzi. And the acting is good, and the scenes with Cagney are the best. The two-hours, 15-minutes running time could be trimmed by some cutting. Not the tapping, though. Leave in all of that. It's a joy!

NEW YORK THEATRE NOW
"NEW MUSICAL WORKS BEAUTIFULLY"
"Cagney", a new musical is a good old-fashioned musical, one you would probably see in Broadway's heyday but sadly, would probably not get a shot at the big leagues today. Why? Because it's not based on a marketing concept, it's new and it's original and its source material is an actor who seems to be largely forgotten today.

The musical works beautifully and manages to hit all the major points of Cagney's life without seeming forced. Though a few events are compressed for time, it's a fairly straight-forward accounting of Cagney's life. All the numbers are great and credit must go to Mr. Creighton and McGovern for making all the numbers tuneful and exciting and able to forward the story along in a brisk and clever way. Of course this musical would be only half as exciting if it didn't have Robert Creighton starring as Cagney. He is not only the right height, build and coloring to play the leading man, he's got Cagney's cadence and lyrical voice down pat.

I've seen several productions at The York Theatre and it's nice to know there's a place that fosters interesting work like "Cagney". And if you're like me, you'll run home and stream a couple of good old James Cagney movies to make it a complete day.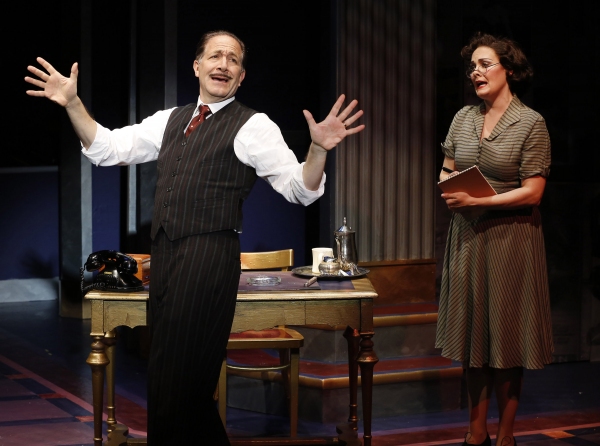 NEW YORK CALLING
"ROUSINGLY ENJOYABLE"
Imitating James Cagney has long been an easy shot for a host of comedians. But it is a big challenge to create the character of Cagney for an entire show. Robert Creighton is delightfully up to the task in his portrayal in the new musical "Cagney," with a book by Peter Colley and music and lyrics by Creighton and Christopher McGovern, presented by The York Theatre Company in association with Riki Kane Larimer.

Much effort is made to tell most of the bio through song and dance, including some rousingly enjoyable tap dancing choreographed by Joshua Bergasse. It is amazing what the five cast members playing the assorted characters supporting Creighton's star performance do. They deserve a medal for versatility and verve. The show seems so much larger than it is.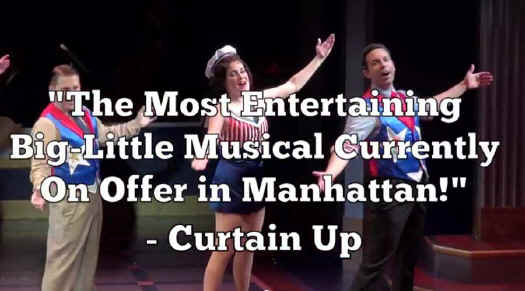 THEATREMANIA
"A BLISSFUL EXPERIENCE - MAKES YOU WANT TO STAND UP AND CHEER"
When you think of all the figures crying out for a musical about their life, James Cagney doesn't appear to top the list. It makes a bit more sense when you remember that Cagney was more than just an actor who specialized in gangster roles. As the world learned from his Oscar-winning turn as George M. Cohan in Yankee Doodle Dandy, he was also an accomplished song-and-dance man, one who spent several years on the vaudeville circuit before heading to Hollywood.

As it turns out, Cagney's life makes for a very charming show. Now at the York Theatre Company in its Big Apple premiere, "Cagney" stars Robert Creighton, a veteran of Broadway's "The Mystery of Edwin Drood" and "Anything Goes", who dazzles with a performance that is highly energetic and exceedingly charismatic. Creighton, whose titanic performance anchors the production, is also the author of the show's best number, the truly delightful "Falling in Love," which puts a deliciously unexpected spin on the standard-issue romantic ballad.

The real highlight of the physical production is the choreography by Tony nominee Joshua Bergasse, which is a dream come true for lovers of tap dance. When Creighton and his fellow cast members click their heels on the wooden floor, "Cagney" turns into a blissful experience that makes you want to stand up and cheer.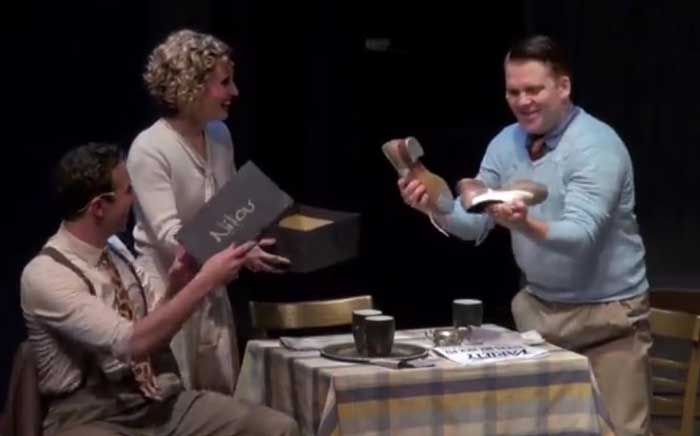 THEATER LIFE
"A HIGHLY ENTERTAINING NEW MUSICAL"
The New York premiere of "Cagney", a highly entertaining new musical about the screen's greatest tough-guy, James Cagney, was presented by the York Theatre, where the opening night audience was cheering uproariously after almost every musical number.

The high spirited evening follows the actor's life from his humble beginnings on New York City's Lower East Side through his rise as a vaudeville song-and-dance man to his superstardom in Hollywood. 'Cagney' covers most of the highlights of the actor's ascent to stardom and his struggle with his image in an insightful and delightful musical journey with fancy choreography by Tony Nominee Joshua Bergasse that features exciting tap numbers.

Cagney was the consummate performer, who could do it all sing, dance, play the bad guy, the good guy, the patriot, the gangster, but apparently at the York the supporting players do it all, as well. They sing, dance, and play numerous characters, switching costumes and personas with consummate ease. They are Jeremy Benton, Danette Holden, Bruce Sabath, Josh Walden, and Ellen Zolezzi. Jeremy Benton, as Bob Hope, has several dynamite tap numbers with Robert Creighton, that alone, are worth the price of a ticket.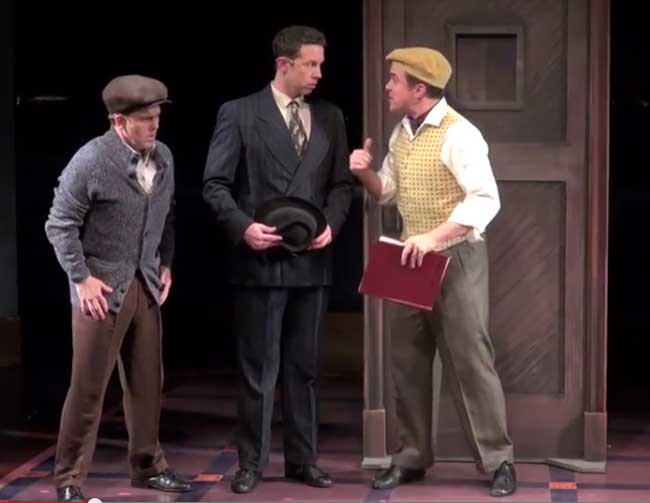 THEATER PIZZAZZ
"A SPIRITED MUSICAL"
Peter Colley (book), Robert Creighton & Christopher McGovern (music & lyrics) have fashioned a lovely, yet tough-at-its-core, chamber musical about that whirlwind of an actor, singer, dancer and humanitarian, James Cagney. "Cagney" at the York Theatre Company is a joyous take on his life, from his tough New York adolescence as breadwinner for his family to his huge success in Hollywood. Throughout his life, this show makes abundantly clear, James Cagney was a mensch of the first order.

Theatrical versions of the lives of real people, particularly celebrities, tend to either deify or degrade their subjects. This show's three creators tread a middle path that doesn't shy away from the darkness of his abject poverty-stricken youth, the politics (in every sense of the word) of Hollywood, his long marriage, his pugilistic temperament, his occasional lapses in judgment and the liberal causes that stirred his generosity. In Mr. Colley's libretto, though Cagney's show business successes didn't happen quite as quickly as shown, events are telescoped to fit into a sensible playing time.

The score ranges from the simply entertaining like Willie's vaudeville trio "There's Nothing I Won't Do For You" to Cagney's poignant yearning "How Will I Be Remembered?" The numbers alternate storytelling like "The Dies Commission" about the Federal government's accusations of Cagney's leftist leanings and the "USO Medley" which shows Cagney and his good friend, Bob Hope entertaining the World War Two troupes. Several George M. Cohan songs are thrown in to end each act, melded seamlessly with the creators' originals, providing occasions for full company production numbers.

Robert Creighton, who looks uncannily like Cagney, portrays him as a totally human, totally likeable guy, never seduced by the lure of Hollywood glamour. He has all the mannerisms down pat without becoming a caricature. His dancing and singing are terrific. This isn't a vanity production in any way, just a labor of love.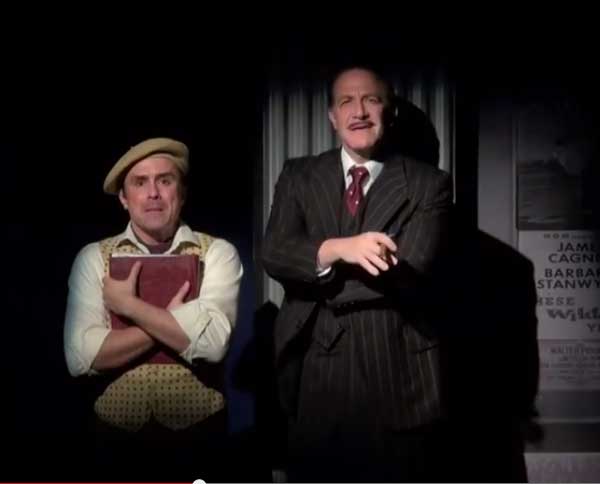 WESTCHESTER ARTS REVIEW
"YOU CAN GO WEST TO BROADWAY TO SEE THE MANY MUSICAL COMEDIES BUT NONE AS SATISFYING AS THIS GEM."
Boy, would I like to have 1/10 of Robert Creighton's energy and talent. He portrays movie icon James Cagney with a verve and a lilt that defies logic. You can go west to Broadway to see the many musical comedies playing there, but you will find none as satisfying as this gem.

We have a cast of six: Jeremy Benton, Danette Holden, Bruce Sabath, Josh Walden and Ellen Zolezzi, who portray myriads of folks in the history of the star, James Cagney, through his tumultuous life from the sidewalks of New York to the canyons of Hollywood. They are each-and-every-one a luminary. They go in-and-out of accents, personalities and attitudes like an everyday person changes clothes. They back up the genius Creighton and lift this show to heights that are mesmerizing and captivating!

Let's bring (the show) a couple of blocks west so they can show Broadway people the right way to direct and dance. Go quickly - before June 21 - to see this masterpiece. This is truly "A Work of Genius;" the "Tough Guy" Cagney was really a sweetheart and a mensch. Cagney sings "How Will I Be Remembered?" and a quote overheard from a living Cagney member in Florida (where the show was born) said, "As long as Creighton plays Cagney, Cagney will be remembered." You better believe it!

BLACKTIE MAGAZINE
"DO NOT MISS THIS SHOW - ONE OF THE MORE INTELLIGENT MUSICALS ABOUT A HOLLYWOOD STAR"
Off-Broadway, "Cagney" at the York Theatre Company, is a delightful musical about Hollywood's Tough Guy in Tap Shoes. Robert Creighton stars as James Cagney, and is terrific. He acts, sings and dances magnificently, and captures the spirit of the outstanding film star. The other five members of the cast are equally superb, and the choreography by Joshua Bergasse, is simply wonderful. It is one of the more intelligent musicals about a Hollywood film star. Do not miss this show, which I call entertainment with a capital E.

The opening night party took place at Lexicon, 226 East 54th St, with guests Joel Grey, Charles Strouse ("Bye Bye Birdie", "Annie"), Martin Charnin ("Annie") and Thomas Meehan ("The Producers", "Hairspray").
BROADWAY WORLD
"BIO MUSICAL CAGNEY HAS LEGS"
The last time a Broadway composer/lyricist wrote himself a tough-guy song and dance man title role, it was the considerably miscast Peter Allen in "Legs Diamond". If composer/lyricist Robert Creighton ever comes to Broadway in
his spirited bio-musical "Cagney", he'll certainly be more believable playing one of Hollywood's most unlikely movie stars, James Cagney.

(This is) an enjoyable pocket-sized production at The York. Though the narrative covers a lot of years, bookwriter Peter Colley concentrates on the character's artistic ambitions. After losing John Barrymore to a New York production of Hamlet, movie mogul Jack Warner (terrifically hard-boiled Bruce Sabath) tells one of his flunkies to sign up some unknown kid who just got great reviews on Broadway. Dismayed to find out the kid is a short, streetwise punk instead of a handsome leading man, he sticks him in a supporting role in a low-budget gangster movie. But when Cagney proves to have an irresistible charisma playing the tough guy, he's graduated to the lead. Think of it as more of an entertaining salute that really shifts into high gear whenever choreographer Joshua Bergasse has the six-member cast flashing their tap shoes, which occurs more frequently as the evening progresses.

Creighton sings with gusto, dances with even more and is an extremely likeable presence, suggesting the guts and determination that attracted Depression-era audiences to Cagney's gritty portrayals. Acting-wise, he's at his best late in the second act, when the star makes a reluctant return to Warner to make "White Heat" and his experience and developed acting skills allow him to elevate his familiar performance into one of high art. At its present state, "Cagney" is certainly entertaining but it always hints of something that wants to be bigger. With a more-involved text and a full-chorus production better framing its star's performance, this musical might start packing some serious heat.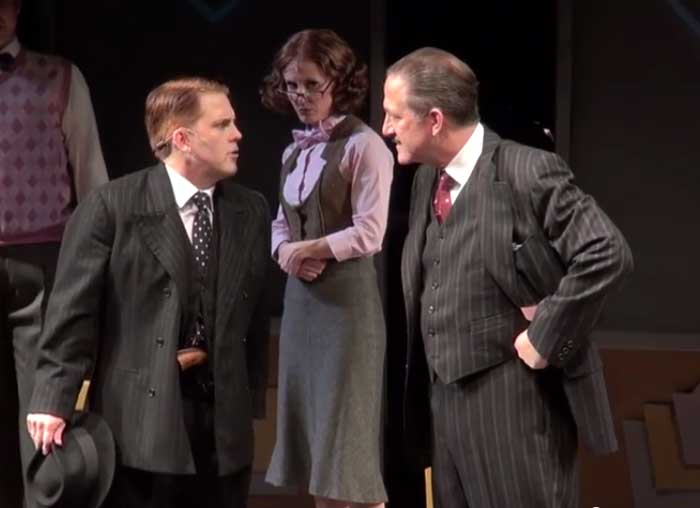 TOTAL THEATER
"A LOT MORE THAN A TOUGH GUY IN TAP SHOES"
It's all here in 'Cagney', a song-and-dance bio-musical currently making its New York premiere at The York Theater. "Cagney" wins as an entertaining mix of toe-tapping with rat-tat-tat staccato speech of one of the most successful actors in film.

The key that drives this breezy show is Robert Creighton, a red-haired dynamo that pops with Cagney-isms with the combative signature stance, the trademark pugnacious delivery, and even the memorable George M. Cohan dance steps. While the original music is spirited, the crowd-pleasers come from the liberal use of the George M. Cohan canon. Ending act one is a rousing, "Grand Old Flag." The closer is, "Yankee Doodle Dandy" and a popping "USO Medley" punctuates the singing-dancing voltage of Robert Creighton and his team of high-steppers. Creighton clearly presents James Cagney as a lot more than the tough guy in tap shoes.

HARRY FORBES REVIEWS
Hollywood tough guy James Cagney's life makes for a surprisingly engaging evening... the tap numbers here are really exceptional... and the narrative is never less than absorbing.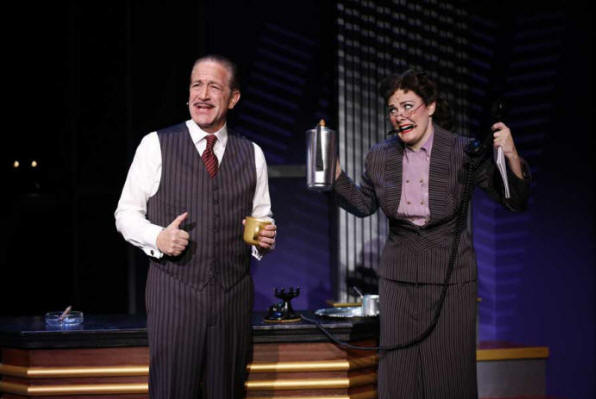 HISTORY NETWORK NEWS
"A SPARKLING PLAY... SUPERB... A GENUINE HIT"
He's a Yankee Doodle Dandy...
"Cagney", is a spiffy, four star musical about the 1930s-1940s movie tough guy James Cagney, who could tap dance like crazy. Cagney lovers will enjoy the play because it focuses on his film career and takes you behind the scenes of his epic films, such as "Public Enemy" and "Yankee Doodle Dandy". If Cagney wrote the musical himself, it would look just like this.

The play sheds a withering spotlight on Hollywood as an industry. The ruthless, make money at any cost philosophy, in whatever movie you can find, is spotlighted brilliantly. Bruce Sabath plays Hollywood mogul Jack Warner, one of the brothers in charge of Warner Brothers Studio, as a marvelously sleazy, money grubbing, kill-or-be-killed shark in a nice suit. He loves, hates, and loves Cagney again throughout the actor's career in Hollywood. Sabath is a wonder. Through the relationship between Cagney and Warner, playwright Colley and songwriters Creighton and McGovern open the door to much show business history back to the early 1920s

The theme of the sparkling play is that Cagney really did not enjoy playing tough guys, even though they made him famous. The play is superb, a Yankee Doodle treasure with memorable songs. "Cagney" is a play that tells a lot of show business history and is a genuine hit.

NORTH JERSEY NEWS
"A LIVELY NEW MUSICAL...SHINES"
A great deal is shoehorned into the show written by Peter Colley and for the most part it works out very well. The lilting score is abetted by some charming lyrics with a very humorous "Falling in Love" sung by both Cagney and his soon-to-be wife Willie. Choreographer Joshua Bergasse has done a bang-up job creating what looks like major production numbers on the miniscule stage.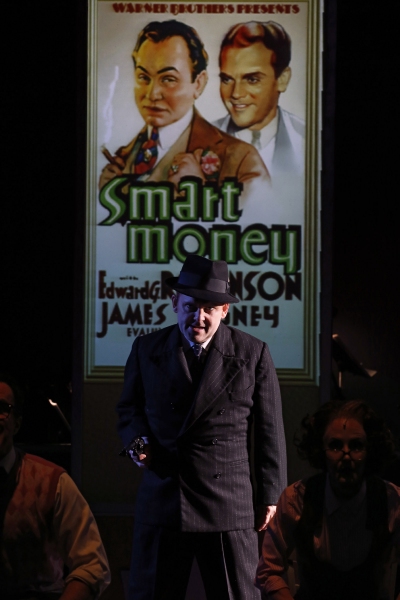 UNITED PRESS INTERNATIONAL
"Cagney" is an entertaining new musical about movie star Jimmy Cagney. Robert Creighton can dance up a storm, and Bruce Sabath turns in an outstanding characterization as the smooth, moustachioed Jack Warner who knows just how to pull Cagney's strings.

WOMAN AROUND TOWN
"CHEER ON AN EMINENTLY WORTHY PIECE"
Clearly a labor of love, "Cagney" touches on pivotal moments in the performer's life and career with special attention to combative years at Warner Brothers. Some of it imaginatively conjures both character and era... Successful elements make one cheer the piece on and look forward to a future iteration. Dramatized film clips, and tap dancing are great fun. One hopes the creative team continues to work on this eminently worthy piece.

CHARGED - FM
Despite the fact that all of Cagney's movies were filmed many decades ago, there are certain scenes which still resonate in our culture. At the performance I attended, there were murmurs of anticipation moments before the re-enactment of Cagney shoving a grapefruit in the face of Mae Clarke in his breakout film "The Public Enemy" (1931). Cagney's famous "Top of the world" scene atop a big gas tank in White Heat (1949) also receives extensive treatment. Those wishing to steep themselves in movie lore and understand one of the most compelling screen actors in the history of Hollywood would do well to attend "Cagney". I must have had a good time because the only thing I wanted to do after the show was over was go home and watch a James Cagney film.
STAGE BUDDY
"A wonderfully compelling biographical piece of theatre... an abundance of enjoyment and nostalgia."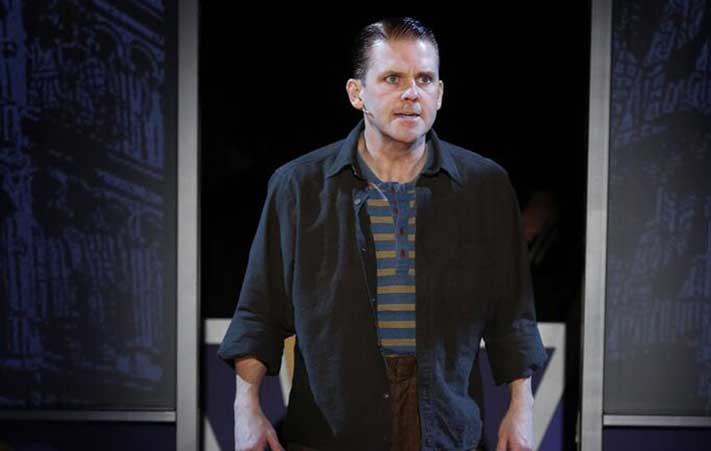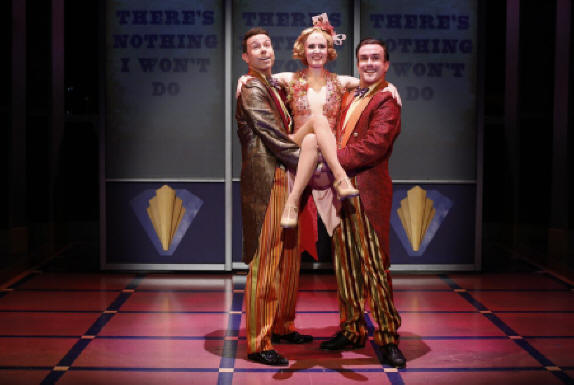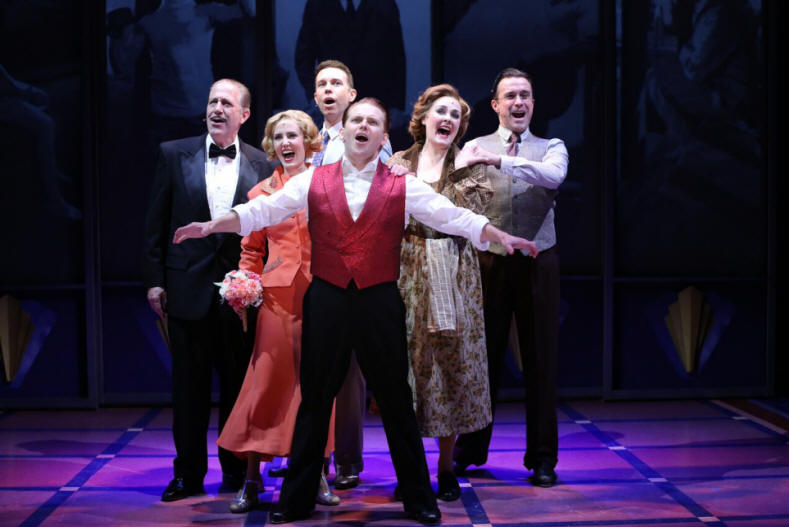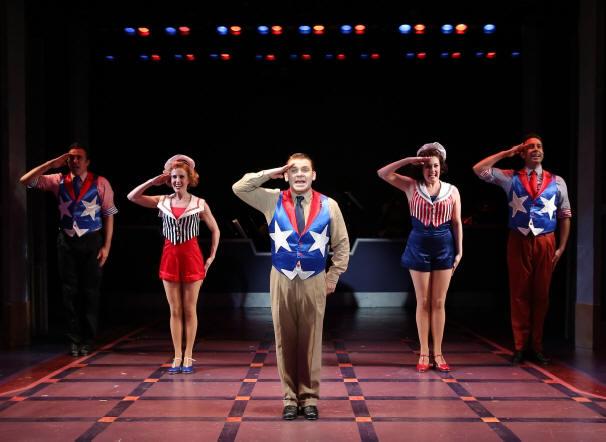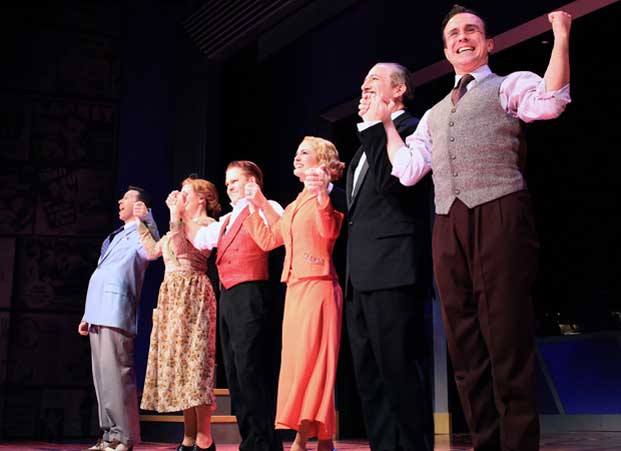 CRITIC'S ROUNDUP:
Show Score Rating:
Critics 87% Positive / Audience 95% Positive