PETER COLLEY Playwright-Screenwriter
KANATA THEATRE, OTTAWA 2005
YOU'LL GET USED TO IT - THE WAR SHOW was presented by The Kanata Theatre in Ottawa in 2005.
Dear Peter:

We opened last Tuesday. This review finally appeared in Saturday's Ottawa Citizen. We have been overwhelmed by the audience reaction. I confess that I underestimated the power of your play. It is brilliantly structured. The segue from the death of Pops to the title song is a stroke of genius. The juxtaposition of the breakdown of Dusty and the VE Day celebration and the death of Jean-Pierre is wrenching. The cast reports that every night they have seen older men with tears streaming down their faces during these moments. Every night the audience has risen as one for the bows.

Thank you so much for this wonderful experience.

Jim Holmes
Artistic Director - Kanata Theatre, Ottawa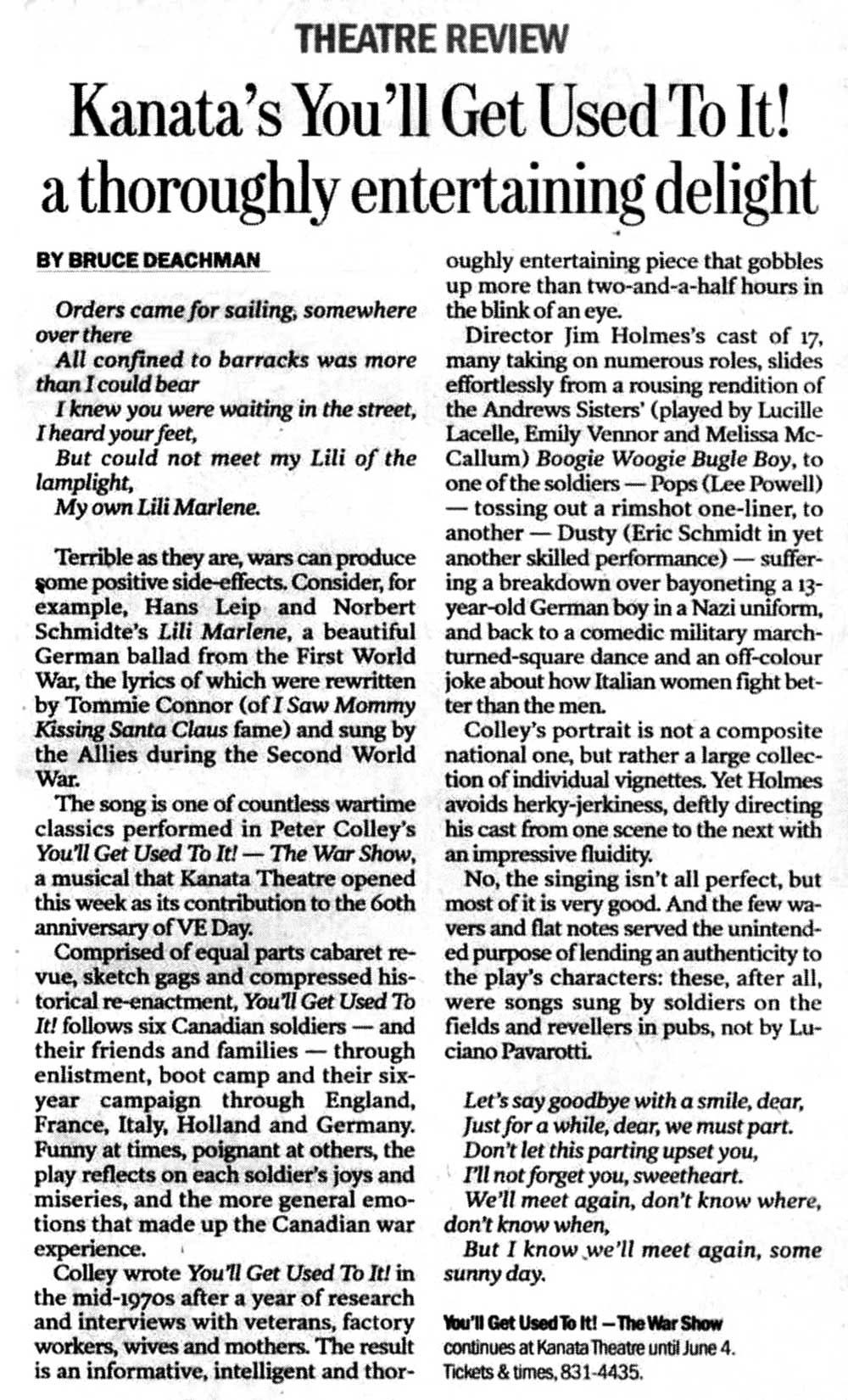 There was also a very interesting story which was carried in the Ottawa Citizen and The National Post.
A young actress in the show discovered that one of the scenes in the play (about a women who lost her hand in a munitions accident) was based on her great-grandmother! She had always wondered how "granny" had lost her hand. Granny's wedding ring was recovered after the accident (still on the blown-off finger) and the young actress wore the ring during the show. It was a little-known story Peter picked up years ago in his research in legion halls and Granny is still alive today and was delighted to hear about the play. She also filled in some of the missing details of the story.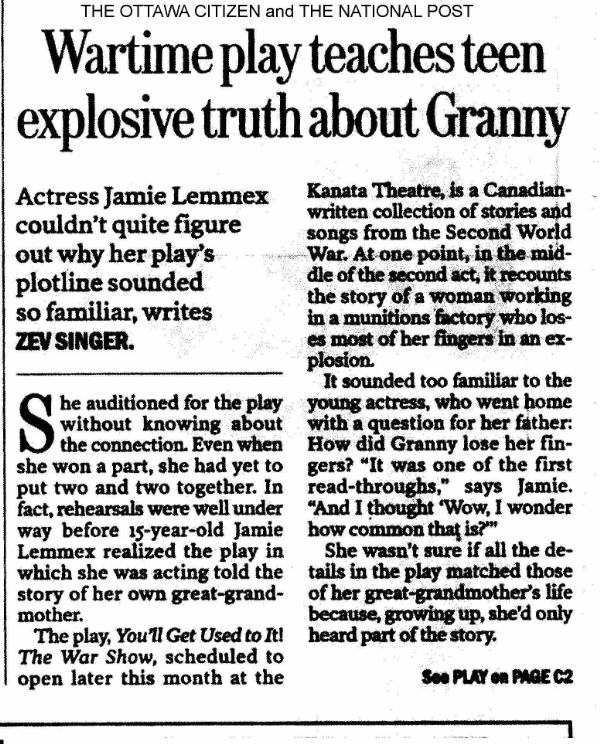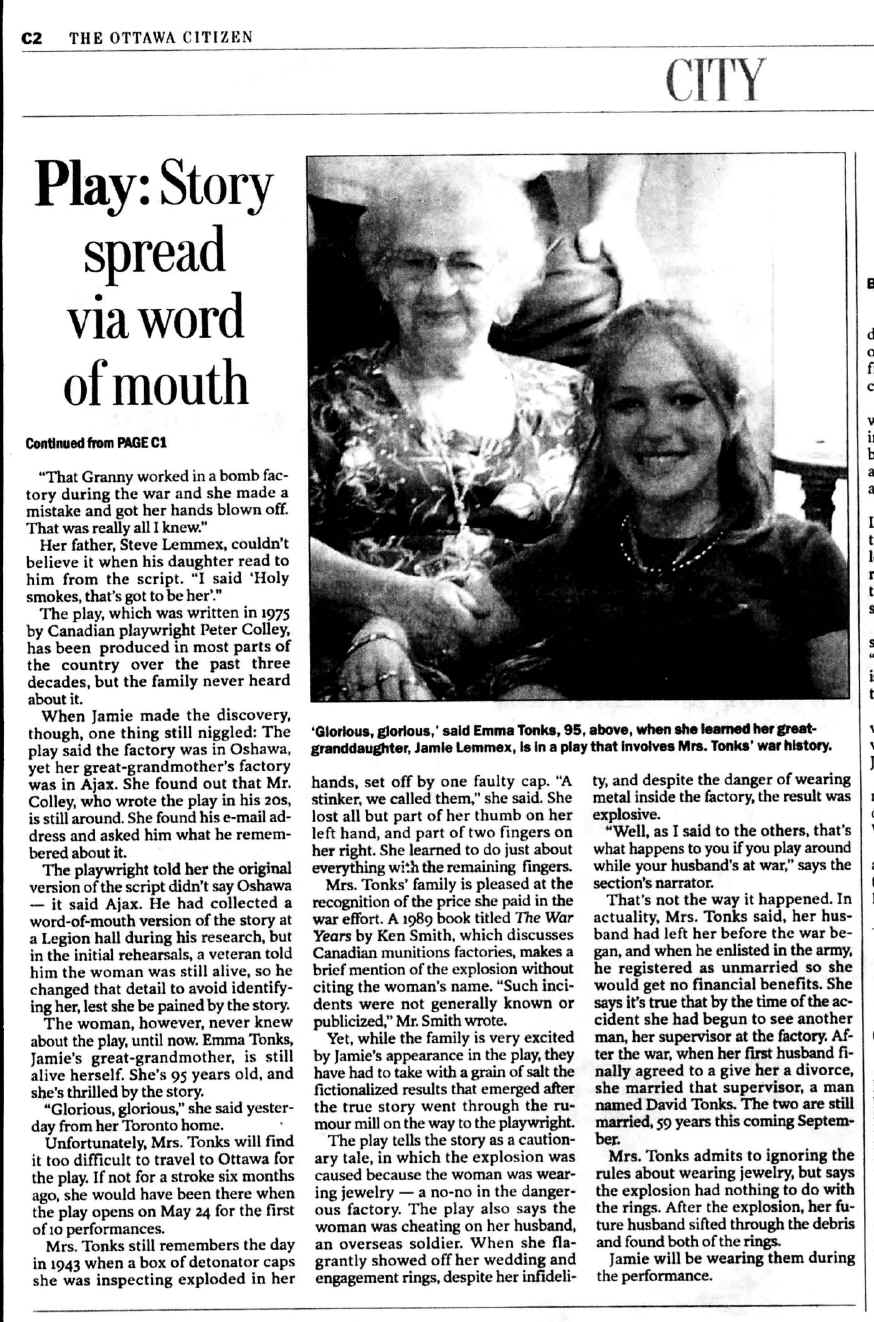 Back to YOU'LL GET USED TO IT - THE WAR SHOW Main Page