(click "UP" to go back to the "The Murderer In The Mirror (Mark of Cain)" Main Page, "HOME" to the Peter Colley Main Page)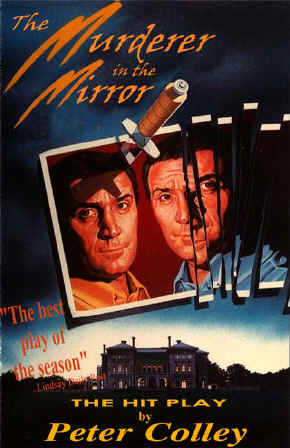 This free download is for reading purposes only. Any actual production of this play would require the payment of royalties.
For all rights except Canadian please contact the author at:

The above email address is a graphic so that SPAM email harvesting programs cannot see it. You must manually type in the email address! Thanks!

Canadian Rights and Script Available From:
The Playwrights Guild of Canada
215 Spadina Ave. Suite #210 Toronto, Ontario Canada M5T 2C7
Tel: (416) 703-0201 Fax: 416) 703-0059
WEB SITE: www.playwrightsguild.ca E-MAIL: mailto:info@playwrightsguild.ca

The Playwrights Guild also handles the amateur rights of this play in Canada. For all other rights please contact the author.
PLEASE NOTE: This script is in PDF format (Portable Document Format) which can be read by Adobe Acrobat Reader. Most computers have Adobe Acrobat Reader, but if your computer does not have it you can download it for free from Adobe. When you start the download the Adobe Reader program will start and you can choose "Save As" from the "File" menu of MS Internet Explorer or "Save a Copy" on the top right hand corner of the Adobe Acrobat Reader screen.
To proceed to download the play click here